A systematic revision of Goniosomatinae (Arachnida : Opiliones : Gonyleptidae), with a cladistic analysis and biogeographical notes
Márcio Bernardino DaSilva A and Pedro Gnaspini A B
+ Author Affiliations
- Author Affiliations
A Departamento de Zoologia, Instituto de Biociências, Universidade de São Paulo, Rua do Matão, trav. 14, n° 101, 05508-090 São Paulo, SP, Brazil.
B Corresponding author. Email: gnaspini@ib.usp.br
Invertebrate Systematics 23(6) 530-624 https://doi.org/10.1071/IS09022
Submitted: 2 April 2009 Accepted: 21 October 2009 Published: 25 March 2010

Abstract
Goniosomatine harvestmen have strongly armed pedipalps, generally large bodies and, commonly, very long legs (sometimes more than 20 cm), and are distributed in the Brazilian Atlantic forest, from southern Bahia to Santa Catarina. Since they are conspicuous animals and individuals of some species tend to concentrate in caves (and also under rock boulders), they have been (and still are) the target of several studies, especially those focusing on reproductive and defensive behavior, population ecology, physiology, chromosomes, etc. In spite of their importance for biological studies (some species constitute important and frequently used models for these studies), the taxonomy of Goniosomatinae has faced some problems, including misidentification, a large number of undescribed species and the lack of a phylogenetic hypothesis for the relationships among its species (which would allow evolutionary studies to be made). The last taxonomic changes in the subfamily were made 60 years ago. Considering a taxonomic revision and cladistic analysis of the subfamily to be of paramount importance, the main scope of the present paper is to provide a cladistic analysis and taxonomic revision of the species of Goniosomatinae and a new arrangement of genera (and species). The main taxonomic changes are given as follows. Six genera are recognised within the subfamily: Goniosoma; the newly described genus Pyatan; the reestablished genera Serracutisoma, Heteromitobates and Mitogoniella; and Acutisoma. New generic synonyms include: Glyptogoniosoma = Goniosomella = Lyogoniosoma = Metalyogoniosoma = Xulapona = Goniosoma, Acutisomelloides = Pygosomoides = Spelaeosoma = Serracutisoma; and Acutisomella = Heteromitobates. Newly described species include: Goniosoma capixaba; G. apoain; Pyatan insperatum DaSilva, Stefanini-Jim & Gnaspini; Serracutisoma pseudovarium; S. fritzmuelleri; S. guaricana; Heteromitobates anarchus; H. harlequin; H. alienus; Mitogoniella taquara; M. unicornis; and Acutisoma coriaceum. New combinations include: Goniosoma macracanthum (Mello-Leitão, 1922); G. unicolor (Mello-Leitão, 1932); G. carum (Mello-Leitão, 1936); Serracutisoma proximum (Mello-Leitão, 1922); S. banhadoae (Soares & Soares, 1947); S. molle (Mello-Leitão, 1933); S. thalassinum (Simon, 1879); S. catarina (Machado, Pinto-da-Rocha & Ramires, 2002); S. inerme (Mello-Leitão, 1927); S. spelaeum (Mello-Leitão, 1933); Heteromitobates inscriptus (Mello-Leitão, 1922); H. albiscriptus (Mello-Leitão, 1932); Mitogoniella modesta (Perty, 1833); and M. badia (Koch, 1839). Reestablished combinations include: Mitogoniella indistincta Mello-Leitão, 1936 and Acutisoma longipes Roewer, 1913. New specific synonyms include: Acutisomella cryptoleuca = Acutisomella intermedia = Goniosoma junceum = Goniosoma patruele = Goniosoma xanthophthalmum = Metalyogoniosoma unum = Goniosoma varium, Goniosoma geniculatum = Goniosoma venustum; Goniosomella perlata = Progoniosoma minense = Goniosoma vatrax, Glyptogoniosoma perditum = Progoniosoma cruciferum = Progoniosoma tijuca = Goniosoma dentipes; Leitaoius iguapensis = Leitaoius viridifrons = Serracutisoma proximum; Acutisoma marumbicola = Acutisoma patens = Serracutisoma thalassinum; Progoniosoma tetrasetae = Serracutisoma inerme; and Acutisoma monticola = Leitaoius nitidissimus = Leitaoius xanthomus = Mitogoniella mutila = Acutisoma longipes. The following species are considered species inquirenda: Goniosoma lepidum Gervais, 1844; G. monacanthum Gervais, 1844; G. obscurum Perty, 1833; G. versicolor Perty, 1833; and Mitogoniella badia (Koch, 1839). The monotypic genus Goniosomoides Mello-Leitão, 1932 (and its species, G. viridans Mello-Leitão, 1932) is removed from Goniosomatinae and considered incertae sedis.
This study was partially supported by a FAPESP (Fundação de Amparo à Pesquisa do Estado de São Paulo) research grant # 00/04686-4 and a research fellowship from CNPq (Conselho Nacional de Desenvolvimento Científico e Tecnológico) # 300326/94-7, Brazil, to PG, and by a CNPq n° 112091/1998-9 and a FAPESP n° 00/00270-8 research fellowships to MBS. We thank Ricardo Pinto-da-Rocha, Adriano Brilhante Kury, and the anonymous reviewers for criticisms and suggestions to the manuscript.
References

Amorim D. S. (1982) Classificação por seqüenciação: uma proposta para a denominação dos ramos retardados. Revista Brasileira de Zoologia 1, 1–9.
| CrossRef |

Boyer S. L., Baker J. M., Giribet G. (2007) Deep genetic divergences in Aoraki denticulata (Arachnida, Opiliones, Cyphophthalmi): a widespread 'mite harvestman' defines DNA taxonomy. Molecular Ecology 16, 4999–5016.
| CrossRef | PubMed |

Bremer K. (1994) Branch support and tree stability. Cladistics 10, 295–304.
| CrossRef |

Bristowe W. S. (1925) Notes on habits of insects and spiders in Brazil. Transactions of the Royal Entomological Society of London 1924, 475–504.

Buzatto B. A., Requena G. S., Martins E. G., Machado G. (2007) Effects of maternal care on the lifetime reproductive success of females in a neotropical harvestman. Journal of Animal Ecology 76, 937–945.
| CrossRef | PubMed |

Cunha-Filho L. A. (1955). Revisão da subfamília Caelopyginae. Ph.D. Thesis, Escola Superior de Agricultura 'Luiz de Queiroz', Universidade de São Paulo, Brazil.

Ferreira R. L., Kawamura E. M., Pontes C. B., Almeida S. S. P., Araújo V. A., Teixeira V. R. C. (2005) Ecologia populacional de Goniosoma sp. (Arachnida, Opiliones, Gonyleptidae) em uma caverna ferruginosa do município de Ouro Preto, MG. Revista Brasileira de Zoociências 7, 203–216.

Gervais P. (1844). Acères Phrynéides, Scorpionides, Solpugides, Phalangides et Acarides, Diceres Épizoiques, Aphaniptères et Thisanoures. Ordre V. Phalangides. In 'Histoire naturelle des Insectes Aptères. Vol. 3'. (Ed. C. A. Walckenaer.) pp. 94–131, 28–30. (Paris.)

Gnaspini P. (1995) Reproduction and postembryonic development of Goniosoma spelaeum, a cavernicolous harvestman from southeastern Brazil (Arachnida: Opiliones: Gonyleptidae). Invertebrate Reproduction & Development 28, 137–151.

Gnaspini P. (1996) Population ecology of Goniosoma spelaeum, a cavernicolous harvestman from south-eastern Brazil (Arachnida: Opiliones: Gonyleptidae). Journal of Zoology 239, 417–435.
| CrossRef |

Gnaspini P. (1999) The use of morphometric characteristics for the recognition of species among Goniosomatinae harvestmen (Arachnida, Opiliones, Gonyleptidae). The Journal of Arachnology 27, 129–134.

Gnaspini P., Cavalheiro A. J. (1998) Chemical and behavioral defenses of a neotropical cavernicolous harvestman: Goniosoma spelaeum (Opiliones, Laniatores, Gonyleptidae). The Journal of Arachnology 26, 81–90.

Gnaspini P., Hoenen S. (1999) Considerations about the troglophilic habit: the cave cricket model. Memoires de Biospeologie 26, 151–158.

Gnaspini P., Trajano E. (1992) Província Espeleológica do Vale do Ribeira, região da Fazenda Intervales, SP: Exploração, topografia e biologia. Espeleo-Tema (São Paulo) 16, 41–74.

Gnaspini P., Trajano E. (1994) Brazilian cave invertebrates, with a checklist of troglomorphic taxa. Revista Brasileira de Entomologia 38, 549–584.

Gnaspini P., Santos F. H., Hoenen S. (2003) The occurrence of different phase angles between contrasting seasons in the activity patterns of the cave harvestman Goniosoma spelaeum (Arachnida, Opiliones). Biological Rhythm Research 34, 31–49.
| CrossRef |

Gnaspini P., da Silva M. B., Pioker F. C. (2004) The occurrence of two adult instars among Grassatores (Arachnida: Opiliones) – a new type of life cycle in arachnids. Invertebrate Reproduction & Development 45, 29–39.

Goloboff P. (1999). NONA, ver. 2.0. Available at http://www.cladistics.com/ [Verified January 2010]

Goodnight C. J., Goodnight M. L. (1953) Taxonomic recognition of variation in Opiliones. Systematic Zoology 2, 173–179.
| CrossRef |

Hara M. R., Gnaspini P. (2003) Comparative study of the defensive behavior and morphology of the gland opening area among harvestmen (Arachnida, Opiliones, Gonyleptidae) under a phylogenetic perspective. Arthropod Structure & Development 32, 257–275.
| CrossRef | PubMed |

Hara M. R., Gnaspini P., Machado G. (2003) Male egg guarding behavior in the neotropical harvestman Ampheres leucopheus (Mello-Leitão 1922) (Opiliones, Gonyleptidae). The Journal of Arachnology 31, 441–444.
| CrossRef |

Koch C. L. (1839). 'Die Arachniden, getreu nach der Natur abgebildet und beschrieben. Vol. 7.' (C. H. Zehschen Buchandlung.)

Koch C. L. (1848). 'Die Arachniden, getreu nach der Natur abgebildet und beschrieben, Vol. 12.' (C. H. Zehschen Buchandlung.)

Kury A. B. (1990) Synonymic notes on Mitobates Sundevall, with redescription of the type species, M. conspersus (Perty) (Opiliones: Gonyleptidae: Mitobatinae). Bulletin of the British Arachnological Society 8, 194–200.

Kury A. B. (1991). Análise filogenética de Mitobatinae (Opiliones, Laniatores, Gonyleptidae). M.Sc. Thesis, Museu Nacional, Universidade Federal do Rio de Janeiro, Brasil.

Kury A. B. (1992) Notes on Mitobatinae VI. A review of Metamitobates Roewer with new synonymies (Opiliones: Laniatores: Gonyleptidae). Mitteilungen aus dem Zoologischen Museum in Berlin 68, 157–166.

Kury A. B. (1994). Ocorrência independente de garras tarsais pectinadas em Gonyleptoidea neotropicais (Arachnida, Opiliones). In 'Resumos do XX Congresso Brasileiro de Zoologia'. p. 72.

Kury A. B. (2003) Annotated catalogue of the Laniatores of the New World (Arachnida, Opiliones). Revista Ibérica de Aracnología, vol. esp. monográfico 1, 5–337.

Machado G. (2002) Maternal care, defensive behavior, and sociality in neotropical Goniosoma harvestmen (Arachnida, Opiliones). Insectes Sociaux 49, 388–393.
| CrossRef |

Machado G. , and Macias-Ordóñez R. (2007). Reproduction. In 'Harvestmen: The Biology of Opiliones'. (Eds R. Pintoda-Rocha, G. Machado and G. Giribet.) pp. 414–454. (Harvard University Press: Cambridge, MA.)

Machado G., Oliveira P. S. (1998) Reproductive biology of the neotropical harvestman Goniosoma longipes (Arachnida, Opiliones: Gonyleptidae): mating and oviposition behaviour, brood mortality, and parental care. Journal of Zoology 246, 359–367.
| CrossRef |

Machado G., Oliveira P. S. (2002) Maternal care in the neotropical harvestman Bourguyia albiornata (Arachnida: Opiliones): oviposition site selection and egg protection. Behaviour 139, 1509–1524.
| CrossRef |

Machado G., Raimundo R. L. G. (2001) Parental investment and the evolution of subsocial behavior in harvestmen (Arachnida Opiliones). Ethology Ecology and Evolution 13, 133–150.

Machado G., Raimundo R. L. G., Oliveira P. S. (2000) Daily activity schedule, gregariousness, and defensive behaviour in the Neotropical harvestmen Goniosoma longipes (Opiliones: Gonyleptidae). Journal of Natural History 34, 587–596.
| CrossRef |

Machado G., Pinto-da-Rocha R., Giaretta A. A. (2001) Notes on the taxonomy and biology of the neotropical harvestman Goniosoma catarina sp. n. (Opiliones: Gonyleptidae). Revista Ibérica de Aracnología 4, 17–22.

Machado G., Bonato V., Oliveira P. S. (2002) Alarm communication: a new function for the scent-gland secretion in harvestmen (Arachnida: Opiliones). Naturwissenschaften 89, 357–360.
| CrossRef | PubMed |

Machado S. F., Ferreira R. L., Martins R. P. (2003) Aspects of the population ecology of Goniosoma sp. (Arachnida: Opiliones: Gonyleptidae) in limestone caves in southeastern Brazil. Tropical Zoology 16, 13–31.

McGhee C. R. (1977) Observations on the use of measurements in the systematic study of Leiobunum (Arachnida: Phalangida). The Journal of Arachnology 5, 169–178.

Mello-Leitão C. de (1922) On some new Brazilian Gonyleptidae. Annals and Magazine of Natural History 9, 329–348.

Mello-Leitão C. de (1923) Opiliões Laniatores do Brasil. Arquivos do Museu Nacional, Rio de Janeiro 24, 105–197.

Mello-Leitão C. de (1926) Notas sobre Opiliones Laniatores sul-americanos. Revista do Museu Paulista 14, 327–383.

Mello-Leitão C. de (1927) Arachnideos de Santa Catarina (Brasil). Revista do Museu Paulista 15, 395–418.

Mello-Leitão C. de (1931) Opiliões novos ou críticos. Arquivos do Museu Nacional, Rio de Janeiro 33, 117–145.

Mello-Leitão C. de (1932) Opiliões do Brasil. Revista do Museu Paulista 17, 1–505.

Mello-Leitão C. de (1933) Novos Gonyleptidae do Brasil meridional. Arquivos da Escola Superior de Agricultura e Medicina Veterinária 10, 133–151.

Mello-Leitão C. de (1934) Novas Gonyleptidae nas colecções do Instituto Butantã. Memorias do Instituto Butantan 8, 409–417.

Mello-Leitão C. de (1935a) A propósito de alguns opiliões novos. Memorias do Instituto Butantan 9, 369–411.

Mello-Leitão C. de (1935b) Algumas notas sobre os Laniatores. Arquivos do Museu Nacional, Rio de Janeiro 36, 89–116.

Mello-Leitão C. de (1936) Notas sobre opiliões. Boletim do Museu Nacional, Rio de Janeiro 12, 1–41.

Mello-Leitão C. de (1937) Notas sobre opiliões do Instituto Butantã. Memorias do Instituto Butantan 10, 289–295.

Mello-Leitão C. de (1940) Sete gêneros e vinte e oito espécies de Gonyleptidae. Arquivos de Zoologia do Estado de São Paulo 1, 1–51.

Mello-Leitão C. de (1949) Famílias, subfamílias, espécies e gêneros de opiliões e notas de sinonímia. Boletim do Museu Nacional, Rio de Janeiro 94, 1–33.

Moritz M. (1971) Die Typen der Arachniden-Sammlung des Zoologischen Museums Berlin. Aus dem Zoologischen an der Humboldt-Universität zu Berlin. Mitteilungen aus dem Zoologischen Museum in Berlin 47, 189–214.

Muñoz-Cuevas A. (1972) Description de Goniosoma pavani n. sp. du Venezuela (Arachnida, Gonyleptidae, Goniosominae). Estratto dal Bolletino della Società Entomologica Italiana 104, 28–32.

Nixon K. C. (1999). Winclada (BETA) ver. 0.9.9. Available at http://www.cladistics.com/ [Verified January 2010]

Nixon K. C., Carpenter J. M. (1993) On outgroups. Cladistics 9, 413–426.
| CrossRef |

Oliveira R. M., Zacaro A. A., Gnaspini P., Cella D. M. (2006) Cytogenetics of three Brazilian Goniosoma species: a new record for diploid number in Laniatores (Opiliones, Gonyleptidae, Goniosomatinae). The Journal of Arachnology 34, 435–443.
| CrossRef |

Page R. D. M. (2001). Nexus Data Editor for Windows ver. 0.5.0. Available at http://taxonomy.zoology.gla.ac.uk/rod/NDE/nde.html [Verified January 2010]

Pellegatti-Franco F., Gnaspini P. (1996) Use of caves by Philander opossum (Mammalia: Didelphidae) in Southeastern Brazil. Papéis Avulsos de Zoologia 39, 351–364.

Perty M. (1833). 'Delectus animalium articulatorum, quae in itinere per Brasiliam an. 1817–20 peracta collegerum J.B. Spix et de Martius.' (Monachii.)

Pinto-da-Rocha R. (1993) Invertebrados cavernícolas da porção meridional da Província Espeleológica do Vale do Ribeira, sul do Brasil. Revista Brasileira de Zoologia 10, 229–255.

Pinto-da-Rocha R. (1995) Sinopse da fauna cavernícola do Brasil (1907–1994). Papéis Avulsos de Zoologia 39, 61–173.

Pinto-da-Rocha R. (1996). A fauna das cavernas paranaenses da Província Espeleológica do Vale do Ribeira. In 'Cavernas do Paraná. Dez anos de espeleologia GEEP-Açungui'. (Eds G. C. Sessegolo, L. F. Silva-da-Rocha and V. Theulen.) pp. 21–24. (GEEP-Açungui: Curitiba, Brazil.)

Pinto-da-Rocha R. (1997) Systematic review of the neotropical family Stygnidae (Opiliones, Laniatores, Gonyleptoidea). Arquivos de Zoologia 33, 163–342.

Pinto-da-Rocha R. (1999). Revisão sistemática e análise cladística de Sodreaninae e Progonyleptoidellinae (Opiliones, Gonyleptidae). In 'Resumos do II Encontro de Aracnólogos do Cone Sul'. p. 57.

Pinto-da-Rocha R. (2002) Systematic review and cladistic analysis of the Brazilian subfamily Caelopyginae (Opiliones: Gonyleptidae). Arquivos de Zoologia 36, 357–464.

Pinto-da-Rocha R., Kury A. B. (2003) Phylogenetic analysis of Santinezia with description of five new species (Opiliones, Laniatores, Cranaidae). The Journal of Arachnology 31, 173–208.
| CrossRef |

Pinto-da-Rocha R. , Sessegolo G. C. , and Sipinski E. A. B. (2001). A fauna das grutas de Botuverá, Santa Catarina, Brasil. In 'Conservando cavernas. Quinze anos de espeleologia GEEP-Açungui'. (Eds L. F. Silva-da-Rocha, K. L. Oliveira and G. C. Sessegolo.) pp. 137–156. (GEEP-Açungui: Curitiba, Brazil.)

Pinto-da-Rocha R., da Silva M. B., Bragagnolo C. (2005) Faunistic similarity and historical biogeography of the harvestmen of southern and southeastern Atlantic Rain Forest of Brazil. The Journal of Arachnology 33, 290–299.
| CrossRef |

Pinto-da-Rocha R. , Machado G. , and Giribet G. (Eds) (2007) 'Harvestmen: The Biology of Opiliones.' (Harvard University Press: Cambridge, MA.)

Piza S. T. de (1938) Novos opiliões do Brasil. Boletim Biológico do Clube Zoológico Brasileiro 3, 135–146.

Piza S. T. de (1942) A respeito da sistemática de alguns opiliões. Revista Brasileira de Biologia 2, 403–416.

Ramires E. N., Giaretta A. A. (1994) Maternal care in a neotropical harvestman, Acutisoma proximum (Opiliones, Gonyleptidae). The Journal of Arachnology 22, 179–180.

Ringuelet R. A. (1954) Sobre la verdadera identidad de Microgoniosoma M.L. y sus especies (Opiliones, Pachylinae). Boletin de la Sociedad Entomologica Argentina 4, 2.

Roewer C. F. (1913) Die Familien der Gonyleptiden der Opiliones-Laniatores. Archives für Naturgesch 79A, 1–472.

Roewer C. F. (1923). 'Die Weberknechte der Erde. Systematische Bearbeitung der Bisher Bekanten Opiliones.' (Gustav-Fisher: Jena.)

Roewer C. F. (1928) Weitere Weberknechte II. Ergänzung der: 'Weberknechte der Erde, 1923'. Abhandlungen. Naturwissenschaftlicher Verein zu Bremen 26, 527–632.

Roewer C. F. (1930) Weitere Weberknechte IV. Ergänzung der: 'Weberknechte der Erde, 1923'. Abhandlungen. Naturwissenschaftlicher Verein zu Bremen 27, 341–452.

Roewer C. F. (1931) Weitere Weberknechte V. Ergänzung der: 'Weberknechte der Erde, 1923'. Abhandlungen. Naturwissenschaftlicher Verein zu Bremen 28, 101–164.

Sabino J., Gnaspini P. (1999) Harvestman (Opiliones, Gonyleptidae) takes prey from a spider (Araneae, Ctenidae). The Journal of Arachnology 27, 675–678.

Santos F. H. S. (2003). Estudo de parâmetros fisiológicos relacionados ao modo de vida cavernícola em Goniosomatinae (Opiliones, Gonyleptidae). Ph.D. Thesis, Instituto de Biociências, Universidade de São Paulo, Brasil.

Santos F. H. S., Gnaspini P. (2002) Notes on the foraging behavior of the Brazilian cave harvestman Goniosoma spelaeum (Opiliones, Gonyleptidae). The Journal of Arachnology 30, 177–180.
| CrossRef |

Sessegolo G. C. , Theulen V. , Silva-da-Rocha L. F. , and Pinto-da-Rocha R. (2001). Conservação e manejo da Gruta da Lancinha, Rio Branco do Sul/PR. In 'Conservando cavernas. Quinze anos de espeleologia GEEP-Açungui'. (Eds L. F. Silva-da-Rocha, K. L. Oliveira and G. C. Sessegolo.) pp. 175–198. (GEEP-Açungui: Curitiba, Brazil.)

Shultz J. , and Pinto-da-Rocha R. (2007). Morphology and functional anatomy. In 'Harvestmen: The Biology of Opiliones'. (Eds R. Pinto-da-Rocha, G. Machado and G. Giribet.) p 14–61. (Harvard University Press: Cambridge, MA.)

Silva-da-Rocha L. F. , Sessegolo G. C. , and Pinto-da-Rocha R. (2001). Análise dos impactos ambientais do gasoduto Brasil/Bolívia na Gruta da Ermida, Almirante Tamandaré-PR. In 'Conservando cavernas. Quinze anos de espeleologia GEEP-Açungui'. (Eds L. F. Silva-da-Rocha, K. L. Oliveira and G. C. Sessegolo.) pp. 91–106. (GEEP-Açungui: Curitiba, Brazil.)

Simon E. (1879) Essai d'une classification des Opiliones Mecostethi. Remarques synonymiques et descriptions d'espèces nouvelles. Annales de la Société Entomologique de Belgique 22, 183–241.

Soares B. A. M. (1943) Alguns opiliões do estado do Paraná. Arquivos do Museu Paranaense 3, 205–213.

Soares B. A. M. (1944a) Notas sobre opiliões – V a XIII. Papéis Avulsos do Departamento de Zoologia do Estado de São Paulo 4, 243–275.

Soares B. A. M. (1944b) Opiliões do Alto da Serra II. Papéis Avulsos do Departamento de Zoologia do Estado de São Paulo 4, 277–302.

Soares B. A. M. (1944c) Notas sobre opiliões da coleção do Museu Nacional do Rio de Janeiro. Papéis Avulsos do Departamento de Zoologia do Estado de São Paulo 6, 163–180.

Soares B. A. M. (1944d) Notas sobre opiliões XIV. Papéis Avulsos do Departamento de Zoologia do Estado de São Paulo 6, 221–224.

Soares B. A. M. (1945a) Opiliões do Paraná. Arquivos do Museu Paranaense 4, 191–206.

Soares B. A. M. (1945b) Revisão dos opiliões do Instituto Butantã. Papéis Avulsos do Departamento de Zoologia do Estado de São Paulo 5, 227–242.

Soares B. A. M. (1945c) Opiliões do Museu Nacional do Rio de Janeiro. Arquivos de Zoologia do Estado de São Paulo 4, 341–393.

Soares B. A. M. (1946) Opiliões do Departamento de Zoologia. Arquivos de Zoologia do Estado de São Paulo 4, 485–534.

Soares B. A. M., Soares H. E. M. (1945) Novos opiliões do Departamento de Zoologia da Secretaria de Agricultura do Estado de São Paulo. Papéis Avulsos do Departamento de Zoologia do Estado de São Paulo 5, 251–269.

Soares B. A. M., Soares H. E. M. (1946) Novos opiliões do Estado do Espírito Santo coligidos na Fazenda Chaves (Opiliones-Gonyleptidae). Papéis Avulsos do Departamento de Zoologia do Estado de São Paulo 7, 233–241.

Soares B. A. M., Soares H. E. M. (1947a) Alótipos e formas novas de opiliões paranaenses (Opiliones-Gonyleptidae, Phalangiidae). Papéis Avulsos do Departamento de Zoologia do Estado de São Paulo 8, 63–84.

Soares B. A. M., Soares H. E. M. (1947b) Opiliões pertencentes à coleção Gert Hatschbach (Opiliones-Gonyleptidae, Phalangodidae, Phalangiidae). Papéis Avulsos do Departamento de Zoologia do Estado de São Paulo 8, 209–230.

Soares B. A. M., Soares H. E. M. (1947c) Opiliões da coleção Gofferjé (Opiliones-Gonyleptidae). Papéis Avulsos do Departamento de Zoologia do Estado de São Paulo 8, 249–259.

Soares B. A. M., Soares H. E. M. (1948) Monografia dos gêneros de opiliões neotrópicos. Arquivos de Zoologia do Estado de São Paulo 5, 553–636.

Soares H. E. M. (1945) Contribuição ao estudo dos opiliões do Estado do Paraná. Arquivos do Museu Paranaense 4, 207–230.

Soares H. E. M. (1970) Gonyleptidae from Poços de Caldas, State of Minas Gerais, Brazil (Opiliones, Gonyleptidae). Revista Brasileira de Biologia 30, 211–216.

Soares H. E. M. (1974) Opera Opiliologica Varia III. (Opiliones, Gonyleptidae). Revista Brasileira de Biologia 34, 477–485.

Soares H. E. M., Bauab M. J. (1970) Contribucion al estudio de los Opiliones del Brasil (Opiliones, Gonyleptidae). Physis (Rio de Janeiro, Brazil) 30, 131–140.

Soares H. E. M., Soares B. A. M. (1985) Opera Opiliologica Varia XXII. (Opiliones, Gonyleptidae). Naturalia (São José do Rio Preto) 10, 157–200.

Soerensen W. (1884) Opiliones Laniatores (Gonyleptides W.S. Olim) Musei Hauniensis. Naturhistorisk Tidskrift 14(3), 555–646.

Stefanini-Jim R. L. (1985). Gonyleptidae da subfamília Goniosomatinae Mello-Leitão, 1935 (Opiliones). M.Sc. Thesis, Universidade Estadual Paulista 'Júlio de Mesquita Filho', campus Botucatu, Brasil.

Stefanini-Jim R. L. (1995). Estudo sistemático de Goniosomatinae (Opiliones, Laniatores, Gonyleptidae). Ph.D. Thesis, Universidade Estadual Paulista 'Júlio de Mesquita Filho', campus Botucatu, Brasil.

Swofford D. L. (2002). PAUP*. Phylogenetic Analysis Using Parsimony (*and Other Methods). Version 4. (Sinauer Associates: Sunderland, MA.)

Thiele K. (1993) The holy grail of the perfect character: the cladistic treatment of morphometric data. Cladistics 9, 275–304.
| CrossRef |

Thomas S. M., Hedin M. (2008) Multigenic phylogeographic divergence in the paleoendemic southern Appalachian opilionid Fumontana deprehendor Shear (Opiliones, Laniatores, Triaenonychidae). Molecular Phylogenetics and Evolution 46, 645–658.
| CrossRef | PubMed |

Tourinho A. L., Kury A. B. (2003) A review of Jussara, with descriptions of six new species (Arachnida, Opiliones, Sclerosomatidae) from Brazil. Tropical Zoology 16, 209–275.

Trajano E. (1987) Fauna cavernícola brasileira: composição e caracterização preliminar. Revista Brasileira de Zoologia 3, 533–561.

Trajano E., Gnaspini P. (1991a) Composição da fauna cavernícola brasileira, com uma análise da distribuição dos táxons. Revista Brasileira de Zoologia 7, 383–407.

Trajano E., Gnaspini P. (1991b) Notes on the food webs in caves from southeastern Brazil. Memoires de Biospeologie 18, 75–79.

Tsurusaki N. , and Fujikawa R. (2004). Male dimorphism of chelicerae size in Pseudobiantes japonicus (Opiliones: Laniatores: Epedanidae) – alternative mating tactics? In '16th International Congress of Arachnology, 2–7 August 2004, Gent, Belgium'. p. 278. [Abstract]

Wilkinson M. (1995) A comparison of two methods of character construction. Cladistics 11, 297–308.
| CrossRef |

Willemart R. H. (2001) Egg covering behavior of the neotropical harvestman Promitobates ornatus (Opiliones, Gonyleptidae). The Journal of Arachnology 29, 249–252.
| CrossRef |

Willemart R. H. (2002) Cases of intra- and inter- specific food competition among Brazilian harvestmen, in captivity (Opiliones, Laniatores, Gonyleptidae). Revue Arachnologique 14, 49–58.

Willemart R., Gnaspini P. (2003) Comparative density of hair sensilla on the legs of cavernicolous and epigean harvestmen (Arachnida, Opiliones). Zoologischer Anzeiger 242, 353–365.
| CrossRef |

Willemart R., Gnaspini P. (2004a) Breeding biology of the cavernicolous harvestman Goniosoma albiscriptum (Arachnida, Opiliones, Laniatores): sites of oviposition, egg batches characteristics and subsocial behaviour. Invertebrate Reproduction & Development 45, 15–28.

Willemart R., Gnaspini P. (2004b) Spatial distribution, mobility, gregariousness, and defensive behavior in the Brazilian cave harvestman Goniosoma albiscriptum (Arachnida, Opiliones, Laniatores). Animal Biology 54, 221–235.
| CrossRef |

Error: Incorrect filename or format (IS09022_TA1a.gif.gif). Please check out Appendix 1.  List of characters and character states

1 – Penis, ventral plate – shape of apical margin (from a dorsal view) [0-1-2-3]:
0 – concave
1 – straight
2 – convex
3 – triangular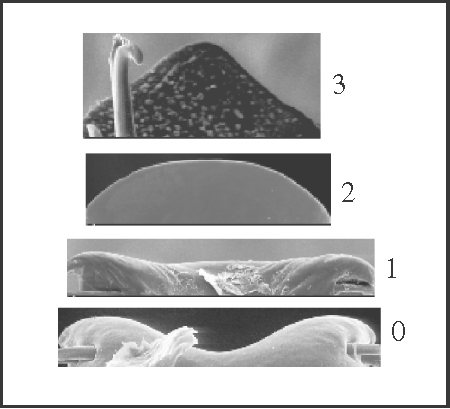 The apical margin becomes straight at node Goniosoma + Pyatan; it becomes convex twice independently within Goniosoma; and it becomes triangular (from a convex lineage) in a group of 3 species (G. apoain, G. calcar, and G. unicolor). A reversion to the concave state occurs in G. varium. The other four genera maintained the ancestral state (concave apical margin), although that concavity is less pronounced than that of the outgroup.
2 – Penis, ventral plate – shape of lateral margins [0-1-2;0-3]:
0 – concave
1 – straight
2 – convex
3 – enlarged/angular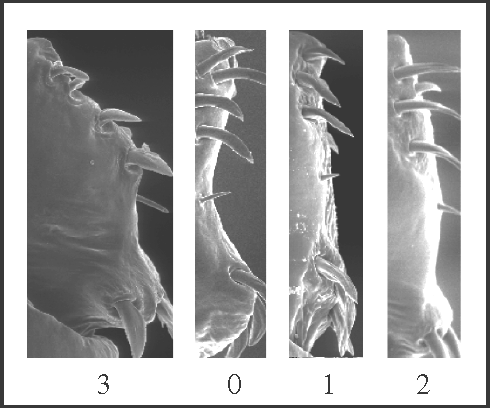 The 'enlarged/angular' margin was considered derived from 'concave' because that type of plate shows a slight concavity in some species. The concave margin changes to a straight margin three times: at node Mitogoniella + Acutisoma, and in two groups of species of Goniosoma. In this genus the change to a straight plate is followed by a narrowing of the ventral plate, which does not occur in Mitogoniella + Acutisoma. In Acutisoma it becomes convex; and the concave margin becomes enlarged at the node of Serracutisoma.
3 – Penis, ventral plate – apex [0-1-2-3]:
0 – without extension
1 – with extension, without constriction
2 – with extension, with one constriction
3 – with extension, with two constrictions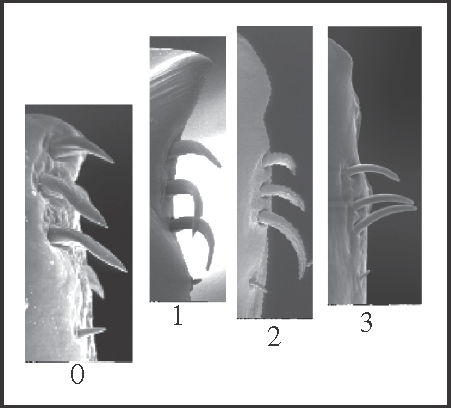 The apical region of the ventral plate can be extended above the apical group of setae. In this case, it can present one or two lateral constrictions. This character only changes within Goniosoma. State 1 appears in Goniosoma (except G. carum); state 2 appears twice, in G. roridum + G. venustum and in G. macracanthum +, in which, later, state 3 appears in (G. dentipes + G. ensifer)+.
4 – Penis, ventral plate – bristles on ventral face:
0 – present
1 – reduced
The bristles are absent in Acutisoma, Serracutisoma (with a reversion in S. proximum), and in Goniosoma (except G. carum). In addition, they were not observed in Mitogoniella taquara. There is a high variation in density, distribution, and size of the bristles, although the cases of reduction can be considered to be similar.
5 – Penis, ventral plate – setae – shape (mainly the basal group):
0 – spatulate
1 – pointed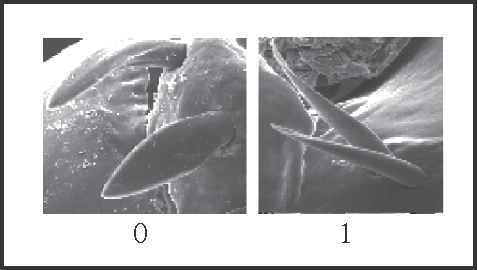 Pointed setae are a synapomorphy of Goniosoma. However, there is a high variation in the width of spatulate setae, and some of them are almost pointed in other genera.
6 – Penis, ventral plate – setae – pattern of the apical group:
0 – 2 rows
1 – 1 row
The setae of ventral plate can be divided in a basal and an apical group. In its turn, the apical group can be divided in a dorsal and a ventral longitudinal row. The former is present in all taxa examined. The presence of a dorsal row alone (i.e. the absence of a ventral row) is a synapomorphy of Goniosoma, with a reversion in G. vatrax. The absence of a ventral row follows a general path towards a reduction in the number of setae.
7 – Penis, ventral plate – setae – number and organisation of setae of the dorsal row in the apical group [non-additive]:
0 – 4 setae
1 – 5 setae, 1 displaced
2 – 5 setae on a row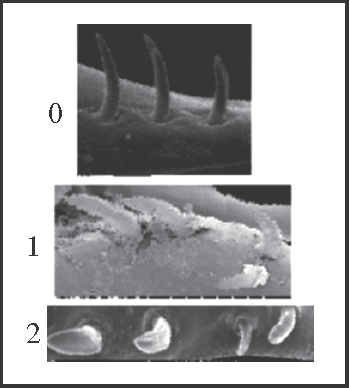 The dorsal row of the apical group may have 4 or 5 setae. In the last case, the additional seta (which is always the smallest one) can be aligned with or displaced from the other setae. The character was coded as non-additive because there is no evidence for the position of this additional seta when it first appeared. Thus, the displaced seta is considered a synapomorphy of Heteromitobates and the aligned setae appear twice independently, in Serracutisoma and in Mitogoniella indistincta + M. taquara.
8 – Penis, ventral plate – setae – position of more basal seta of apical group:
0 – far from the others
1 – equidistant to the others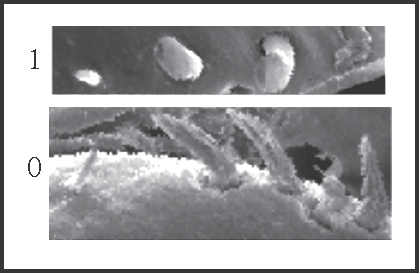 This more basal seta is the smallest of the apical group. It becomes 'equidistant' in the large clade Serracutisoma + and in Mitogoniella indistincta + M. taquara, occurring 3 reversions within Goniosoma: in G. unicolor, in G. vatrax, and in G. roridum + G. venustum.
9 – Penis, ventral plate – setae – organisation of basal group [0-1;0-2-3]:
0 – oblique row
1 – transversal row
2 – longitudinal row
3 – inverted-L-shaped row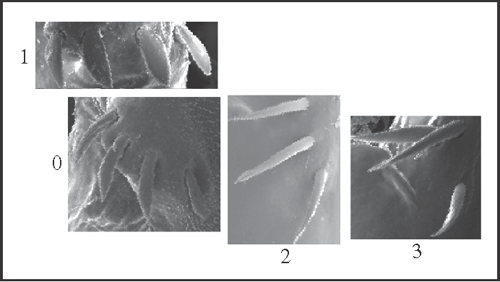 The basal group of setae is organised in a single row, which direction vary in relation to the longitudinal axis of the ventral plate. It becomes transversal in Serracutisoma, longitudinal in G. macracanthum + and changes to inverted-L-shaped row in G. ensifer; there is a reversion to oblique row in G. unicolor. Yet, there is a direct change from state 0 to state 3 in G. roridum + G. venustum.
10 – Penis, ventral plate – setae – number at the apical ventral group [0-1-2;0-3]:
0 – 1 seta
1 – 2 setae
2 – 3 setae
3 – 0 seta
These ventral setae are lost in Goniosoma (synapomorphy; reversion in G. vatrax). Two setae appear in Heteromitobates +, and a third seta appears independently in Heteromitobates and Mitogoniella unicornis.
11 – Penis, ventral plate – setae – number in the basal group [0-1;0-2]:
0 – 4 setae
1 – 3 setae
2 – 5 setae

From the plesiomorphic number (4), a seta is lost in Goniosoma (state 1), and an additional seta appears only in Mitogoniella modesta (state 2).
12 – Penis, ventral plate – setae – small ventral seta, close to basal group:
0 – absent
1 – present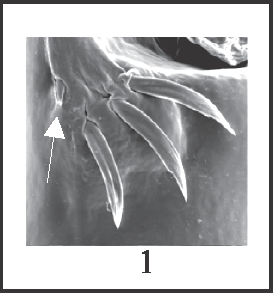 Although this seta is considered apart from the basal group, it could be considered the fourth seta of character 11; in this case, state 0 of character 11 should have been divided into 2 states. The equivalence between this reduced seta and that fourth seta was corroborated by the parsimony analysis: the fourth seta of the basal group was lost (character 11, state 1) and the reduced seta appeared (character 12, state 1) at the node of Goniosoma. This codification was preferred for matters of simplification.
13 – Penis, glans – ventral process [0-1-2-3;0-4]:
0 – with apical lamina inserted by base, with projections
1 – with apical lamina inserted by base, without projections
2 – thin, without apical lamina
3 – absent
4 – with apical lamina inserted by center, with projections
The ventral process can be absent or present, with variation in the shape of the apical lamina and in its insertion on the stem. State 1 appears as a synapomorphy of Goniosoma, with a reduction to thin (state 2) at the node Goniosoma varium + + G. vatrax + (ACCTRAN), and the process is lost (state 3), twice: in G. roridum + G. venustum and in G. vatrax. In Heteromitobates the process changes from state 0 to 4.
14 – Penis, glans – stylus – shape of apex:
0 – round
1 – with a dorsal–apical beak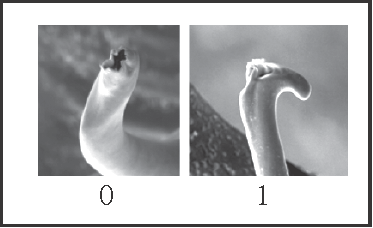 Synapomorphy of Goniosoma.
15 – Penis, glans – stylus – shape [0-1-2]:
0 – straight
1 – 90° angle
2 – 90° angle with scales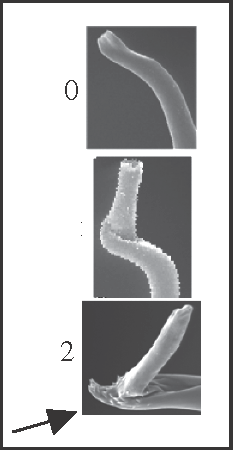 The sharply bent stylus is a synapomorphy of Acutisoma + Mitogoniella, and the scales appear in Mitogoniella.
16 – Penis, glans – dorsal process [non-additive]:
0 – absent
1 – small, callus-like
2 – finger-like
3 – large, sac-like

The large dorsal process appears only as a synapomorphy of Heteromitobates. Independently, the callus-like appears in S. fritzmuelleri + (with a reversion in S. pseudovarium) and in G. roridum + G. venustum. The finger-like process appears autapomorphically in Pyatan insperatum.
17 – Penis, glans – Truncus [0-1;0-2]:
0 – medially invading the base of the ventral plate on dorsal face
1 – not invading the ventral plate
2 – entirely invading the base of the ventral plate on dorsal face

State 1 appears twice: in Goniosoma except G. carum (with a reversion in G. varium) and in Heteromitobates alienus + H. harlequin. State 2 appears autapomorphically in Pyatan insperatum.
18 – Leg IV, femur – inward curvature [0-1-2-3-4]:
0 – absent
1 – light
2 – medium
3 – strong
4 – very strong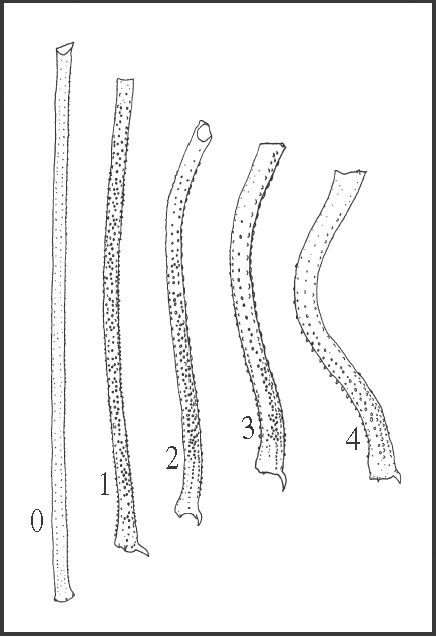 In dorsal view, femur IV may be straight or from slightly curved to sharply bent. The curved femur has a slight 'S' shape, with the outward curved basal region smaller than the inward curved apical one. The variation of this character concerns only the apical curvature. The curvature of the femur appears three times independently: in Acutisoma hamatum + A. longipes, in S. pseudovarium, and as a synapomorphy of Goniosoma. In Goniosoma, state 2 appears directly from state 0, and within this genus it changes to strong in G. vatrax + and to very strong only in G. calcar; there is a reversion to state 0 in G. roridum + G. venustum and two reversions to state 2 in G. dentipes and in G. unicolor.
19 – Leg IV, femur – outward curvature [0-1-2]:
0 – absent
1 – light
2 – strong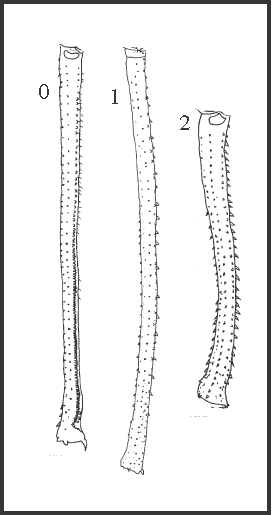 The light curvature appears twice, in Heteromitobates + and as an autapomorphy of Pyatan. The strong curvature appears autapomorphically in H. alienus. A reversion occurs in Acutisoma hamatum + A. longipes, which femora have an inward curvature (character 18).
20 – Leg IV, femur – position of bend [non-additive]:
0 – absent
1 – medial
2 – medial to apical
A bent femur has a straight basal region and an oblique apical region, displaced upward and inward. This condition was considered 'straight' in characters 18 and 19. That bend can be medial or more apical, and we were not able to identify a transformation series between them. The bend is a synapomorphy of Serracutisoma (using ACCTRAN); it changes three times to state 2: in S. catarina, in S. inerme and in S. banhadoae +, with 2 reversions (in S. proximum and in S. thalassinum + S. pseudovarium).
21 – Leg IV, femur – irregularity on dorsal rows [0-1-2-3;0-4]:
0 – very low
1 – medium (more than 1/3 apical)
2 – high with a little developed comb
3 – absent, with only a well developed comb
4 – absent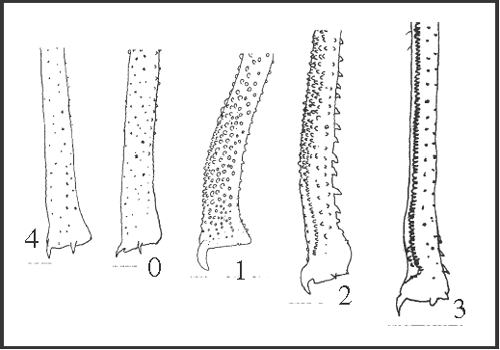 As cited in 'Methods', there is a regular pattern of rows of granules and spines on the legs, but the dorsal rows (row1 and row6) may show a variation in that pattern. Row1 may change its direction, confounding with row6 on the apical region, and these irregularities may reach the basal region. In these cases, the rows become a comb of high granules very close to each other. An irregularity of the dorsal rows (state 1) appears as a synapomorphy of Goniosoma, changing to state 2 twice (in G. varium + and in G. unicolor) and to state 3 in G. roridum + G. venustum. The irregularity disappears in Mitogoniella (from state 0 to state 4), following a general tendency of reduction in the ornamentation of legs.
22 – Leg IV, femur – granules of row2 [0-1-2;0-3;0-4]:
0 – normally shaped
1 – flat
2 – flat and longitudinally elongate
3 – pointed
4 – minute to absent
There is a high variation in the ornamentation of legs, mainly on femur IV of males. That variation is more conspicuous on row2, which may represent the general ornamentation of the other rows and legs. The possible hypothesis that normal granules change to flat granules before they change to flat and longitudinally elongate ones was rejected in our cladistic analysis. State 2 appears in Goniosoma, changing to state 1 in G. capixaba +, in G. macracanthum, and in G. dentipes. State 3 appears twice independently: in Pyatan and as a synapomorphy of Heteromitobates (using ACCTRAN). Granules reduce a single time as a synapomorphy of Mitogoniella.
23 – Leg IV, femur – armature of row2 [0-1-2;0-3-4;0-5]:
0 – absent
1 – large spines in all extension, except on the apical region
2 – large spines in all extension
3 – large spines only on the medial–apical region
4 – spines increasing from base to angle
5 – spines only on subapical region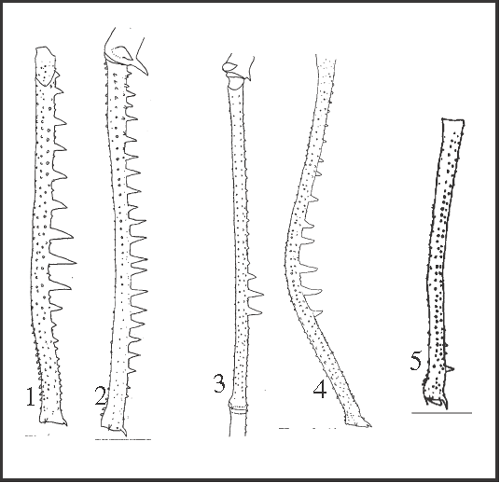 Granules may be replaced by spines with different sizes and distribution patterns. We can suggest the armature of row2 as a synapomorphy of Serracutisoma since all species of this genus possess it. However, there is a variation in the distribution of spines among species which renders difficult to establish a series of transformation between the observed states, what led us to propose independent acquisition directly from an absent state. Under this hypothesis, state 1 appears in S. proximum + changing to state 2 in S. proximum; independently, state 2 appears in S. thalassinum; state 3 appears only in S. fritzmuelleri; state 4 appears independently in S. catarina + and in S. molle; and state 5 appears only in S. pseudovarium.
24 – Leg IV, femur – armature of row3:
0 – with spines
1 – absent (only granules)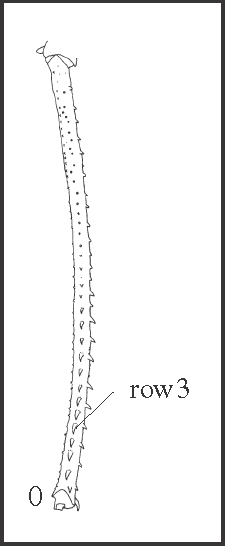 Elevations of row3 increase towards the apical direction in all species. On the third apical region these elevations may be granules or spines, sometimes forming a grade. This armature is reduced in Acutisoma + Mitogoniella, in Goniosoma (with a reversion in G. capixaba +), in Heteromitobates albiscriptus, in Serracutisoma proximum, and in S. pseudovarium + S. thalassinum.
25 – Leg IV, tibia – armature of row2:
0 – absent
1 – present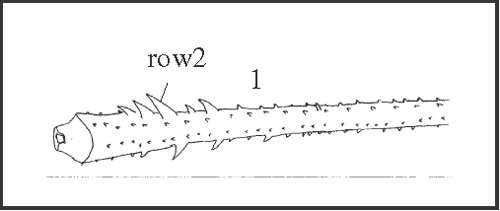 It appears independently as a synapomorphy of Serracutisoma spelaeum + and as an autapomorphy of Goniosoma carum.
26 – Leg IV, tibia – armature of row3 [0-1-2-3]:
0 – absent
1 – straight spines
2 – curve spines
3 – curve spines, in all extension
The present series of transformation was proposed because curve spines are larger than straight ones. In our analysis, the plesiomorphic state in Goniosomatinae may be either 'absent' or 'straight spines'. If we consider 'absent' as the plesiomorphic state, straight spines appear as a synapomorphy of Heteromitobates, and independently in Goniosoma roridum + G. venustum, in G. vatrax, in Serracutisoma inerme + S. guaricana, and in S. banhadoae. Curve spines appear in Pyatan + Goniosoma. State 3 appears in (G. dentipes + G. ensifer)+ (with a reversion to state 2 in G. apoain) and as an autapomorphy of G. carum.
27 – Leg IV, tibia – armature of row4:
0 – absent
1 – present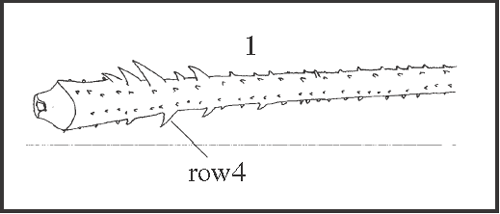 It appears independently in Serracutisoma catarina +, in Heteromitobates inscriptus, and in H. anarchus.
28 – Leg IV, tibia – comb of high granules on row2:
0 – absent
1 – present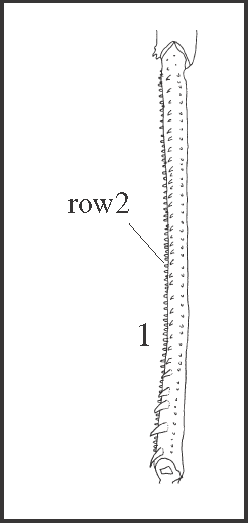 It appears in Goniosoma except in the more basal species, G. carum. This character follows the general trend of increasing of armature tibia IV in this genus. In this case, higher granules appears instead of spines. It is interesting to notice that G. carum, the only species of the genus without this comb, has spines on row2 (character 25).
29 – Leg IV, tibia – retrolateral apical spine:
0 – absent
1 – present

This is a distinct, large, straight, and unique retrolateral apical spine close to row2. It appears only in Goniosoma dentipes + G. ensifer.
30 – Leg IV, tibia – ventral apical spine:
0 – absent
1 – present

This is a distinct, large and backward curved spine, close to row3. It appears four times: in Heteromitobates alienus, in Pyatan, in G. vatrax, and in G. roridum + G. venustum.
The next three characters concern metatarsus IV, in which the strongest armature occurs on its basal region, reducing towards the apex until it disappears.
31 – Leg IV, metatarsus – armature of row2:
0 – absent
1 – present
It appears as an autapomorphy of Goniosoma carum and in G. apoain + (with a reversion in G. unicolor).
32 – Leg IV, metatarsus – armature of row3:
0 – absent
1 – present
It appears as a synapomorphy of Goniosoma, with a reversion in G. varium +.
33 – Leg IV, metatarsus – armature of row4:
0 – absent
1 – present
It appears as a synapomorphy of Goniosoma (using ACCTRAN), with a reversion in G. capixaba + and in G. macracanthum +.
34 – Legs II and III – armature [0-1-2-3]:
0 – unarmed
1 – spines close to each other
2 – sparse spines
3 – sparse spines with 2 or 3 larger ones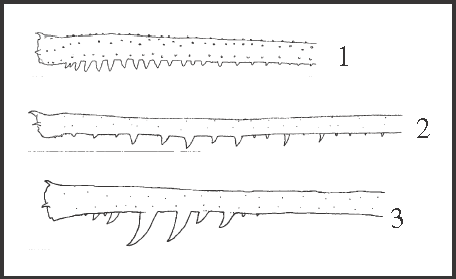 These spines are distinct from other granules that increase in size apically on ventral rows. The proposed series of transformation was rejected in the analysis since we observed an acquisition of state 3 directly from state 1. Considering Serracutisoma +, state 1 appears either independently in Pyatan and as a synapomorphy of Serracutisoma (using DELTRAN), or in Serracutisoma + with a subsequent reversion in Goniosoma (using ACCTRAN). Inside Serracutisoma, it changes independently to state 2 in S. proximum, to state 3 in S. catarina +, and with a reversion in S. pseudovarium. State 1 still appears independently in Heteromitobates inscriptus.
35 – Leg II – armature of tibia – row 4:
0 – absent
1 – present
Synapomorphy of Serracutisoma (using ACCTRAN), with independent reversions in S. spelaeum, S. fritzmuelleri, and S. banhadoae.
36 – Leg II – armature of tibia – row 3:
0 – absent
1 – present
It appears four times: in M. unicornis +, in S. banhadoae + (with a reversion in S. pseudovarium), in S. catarina, and in S. guaricana.
37 – Leg II – armature of metatarsus – ventral rows:
0 – absent
1 – present
It appears three times, with an evolution pattern similar to character 36: in S. banhadoae + (with a reversion in S. molle, using ACCTRAN), in M. unicornis +, and in S. catarina + (with a reversion in S. guaricana).
The last three characters suggest two independent appearance of armature of leg II, in the genera Mitogoniella and Serracutisoma.
38 – Apophyses of leg IV – shape of prolateral apical apophysis of coxa [non-additive]:
0 – falcate apex
1 – with a small subapical process
2 – blunt with a small subapical process
3 – pointed with a small sub-basal process

This apophysis has a high variation in shape and size. The differences are generally related to the presence and position of a sub-basal process. For example, the falcate apophysis is divided by a straight basal region until this process, after which the apex is curved, falcate. Due to the large morphological difference between the falcate apophysis and the others, we prefer to consider this character as non-additive. State 1 appears at the node of Heteromitobates, Acutisoma and Mitogoniella, changing to state 2 twice, in Mitogoniella and in H. alienus + H. harlequin. Pointed apophysis appears a single time in Pyatan + Goniosoma. The falcate apophysis was maintained only in Serracutisoma.
39 – Apophyses of leg IV – direction of the prolateral apical apophysis of coxa [0-1-2]:
0 – almost transversal
1 – oblique, between 30° and 60°
2 – almost longitudinal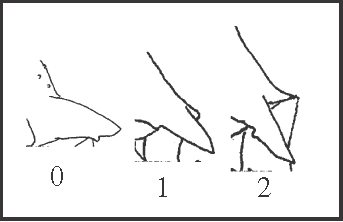 The direction of this apophysis is related to the longitudinal axis of the animal. One hypothesis is that it becomes oblique in Serracutisoma fritzmuelleri + and in Pyatan + Goniosoma. An alternative hypothesis indicates a single appearance in Serracutisoma + with a reversion in S. catarina +. In Goniosoma, it changes to state 2 in G. apoain + (with a reversion in G. unicolor). State 1 also appears independently in Acutisoma hamatum + A. longipes (it is polymorphic in the latter).
40 – Apophyses of leg IV – retrolateral apical apophysis of coxa [0-1-2-3]:
0 – absent or like a granule or tubercle
1 – like a medium spine, pointed
2 – near the size of that of trochanter IV
3 – much larger than that of trochanter IV (more than 1.5x)
In most species this apophysis only varies in size, and in some species it varies in shape too (variation in shape was addressed in another character 41). State 1 appears either four times, in Heteromitobates alienus + H. harlequin, in H. anarchus, in Acutisoma, andin S. proximum + (using DELTRAN), or twice, in Heteromitobates + (with three reversions, in Mitogoniella, in H. discolor + H. inscriptus, and in H. albiscriptus) and in S. proximum + (using ACCTRAN). State 2 appears directly from state 0 as a synapomorphy of Goniosoma, and it changes to state 1 in G. capixaba + and in G. calcar rejecting our original hypothesis of transformation. State 3 appears independently in G. macracanthum and in G. ensifer.
41 – Apophyses of leg IV – retrolateral apical apophysis of coxa crescent-like (prolateral curvature):
0 – absent
1 – present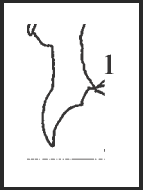 This character is a modification of state 1 of character 40. It appears a single time in Acutisoma hamatum + A. longipes.
42 – Apophyses of leg IV – prolateral apophysis at the basal region of trochanter [0-1;0-2-3]:
0 – sub-basal and large
1 – basal
2 – sub-basal and small
3 – absent
This apophysis varies in size and position. It becomes basal twice, in Serracutisoma and in Acutisoma + Mitogoniella, and it becomes smaller in Heteromitobates harlequin, in Goniosoma dentipes + G. ensifer, and in G. apoain. The absent state is present only in the outgroup.
43 – Apophyses of leg IV – prolateral apical apophysis of trochanter [0-2-1-3]:
0 – absent
1 – larger than basal apophysis, prolateral
2 – smaller than basal apophysis, prolateral
3 – larger than basal apophysis, dorsal–prolateral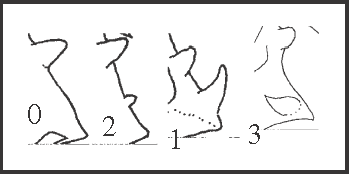 Our original hypothesis of transformation that a larger apophysis would appear from a smaller one was rejected by our analysis. State 1 appears in Serracutisoma +. The apophysis reduces (state 2) in G. vatrax +, disappearing as a reversion soon after, in G. macracanthum +. A reversion to state 1 also occurs in G. calcar + G. unicolor. State 3 appears from state 1 in Serracutisoma. A smaller apophysis (state 2) of the same size of the sub-basal apophysis appears independently in Heteromitobates harlequin.
44 – Apophyses of leg IV – retrolateral basal apophysis of trochanter:
0 – absent
1 – present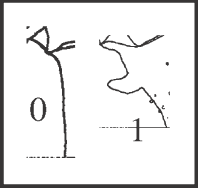 This apophysis is curved upward and forward, cylindrical, appearing a single time as a synapomorphy of Acutisoma.
45 – Apophyses of leg IV – retrolateral apical apophysis of trochanter [0-1-2]:
0 – small, of same size of granules
1 – much larger than granules, curved backward
2 – much larger than granules, straight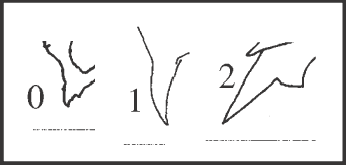 State 1 appears twice in Serracutisoma: in S. spelaeum + and in S. molle +, changing to state 2 in S. pseudovarium + S. thalassinum.
46 – Apophyses of leg IV – apical dorsal apophyses of femur IV – size of retrolateral apophysis:
0 – absent
1 – small
2 – large
Both apophyses of femur IV, retrolateral and prolateral, are present in all species of Goniosomatinae and are inserted on the apex of row1 and row6, respectively. Both apophyses vary in size and only the retrolateral varies in direction (character 47). The retrolateral apophysis is large in Acutisoma hamatum + A. longipes and as a synapomorphy of Goniosoma. Moreover, it presents different morphology in those groups: it is straight inward in Acutisoma, and it maintains the same shape of the smallest one, being curved backward (character 47) in Goniosoma.
47 – Apophyses of leg IV – apical dorsal apophyses of femur IV – curvature of retrolateral apophysis:
0 – backward
1 – straight inward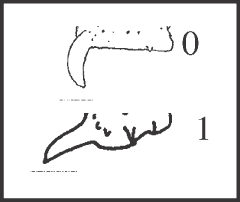 It is a synapomorphy of Acutisoma hamatum and A. longipes. It seems that the increase of the apophysis (character 46) and its straightening forward probably occurred in a single event.
48 – Apophyses of leg IV – apical dorsal apophyses of femur IV – size of prolateral apophysis:
0 – small
1 – reduced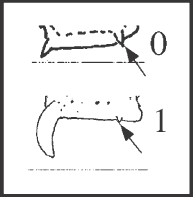 The reduction of this apophysis is congruent with an increase of the retrolateral apophysis (character 46) as a synapomorphy of Goniosoma. However there is a reversion in G. roridum + G. venustum, in addition to an independent appearance in Heteromitobates harlequin.
49 – Tarsi – tarsal process of leg IV – size [0-1-2]:
0 – minute (Fig. 6)
1 – medium, more than ¼ and less than ½ the size of the tarsal claws (Fig. 8)
2 – large, with the same size of the tarsal claws (Fig. 16)
It increases (state 1) in Goniosoma (except G. carum), with an additional increase in G. capixaba and polymorphically in G. venustum, with reversions in G. unicolor and in G. apoain.
50 – Tarsi – tarsal claws of legs III and IV:
0 – smooth (Fig. 9)
1 – pectinate (Fig. 7)
Within Gonyleptidae, pectinate claws were considered to occur only in Caelopyginae, when A.B. Kury (1994, unpublished note) first observed it in the Goniosomatinae Heteromitobates discolor (see discussion in 'Characters – main tendencies and evolution'). In the present study we recognised it in other species as a synapomorphy of the genus Heteromitobates; and it appears independently as a polymorphism in Mitogoniella modesta.
51 – Dorsal scute – area II invading area I medially
0 – absent
1 – present (e.g. Fig. 224)
Synapomorphy of Goniosomatinae.
52 – Dorsal scute – pair of main elevations of eye mound [0-1-2]:
0 – small granules or tubercle
1 – medium spine (<1mm)
2 – large spine (>1mm)

Spines only appear at node of Pyatan + Goniosoma, increasing to 'large spines' twice: in G. carum and in (G. dentipes + G. ensifer)+ with a reversion to tubercles in G. macracanthum. In addition, spines independently appear also in Serracutisoma catarina.
53 – Dorsal scute – main elevations of eye mound – knobbed tubercle:
0 – absent
1 – present
This tubercle has a very different shape, with the normal conical base but with a knob-like, cylindrical apex. It appears in (Heteromitobates discolor + H. inscriptus) + (H. albiscriptus + H. anarchus).
54 – Dorsal scute – main elevations of eye mound – elevated region between tubercles:
0 – absent
1 – present
This region is considered to be elevated when it nearly reaches or it is above the eyelevel. In this case tubercles are very close to each other or are totally fused (the latter is an autapomorphy of Mitogoniella unicornis). This condition is present in Acutisoma + Mitogoniella with a reversion in M. indistincta + M. taquara, although the tubercles of these species are also close to each other.
55 – Dorsal scute – pair of main elevations of area III:
0 – tubercles
1 – spines
Synapomorphy of Goniosomatinae, with 5 independent and autapomorphic reversions (Heteromitobates alienus, Serracutisoma spelaeum, S. fritzmuelleri, S. pseudovarium, and Goniosoma macracanthum).
56 – Dorsal scute – angles of posterior margins of dorsal scute and free tergites (males):
0 – with granules or small tubercles
1 – with strong tubercles or spines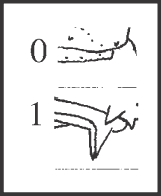 In the past, the presence of spines was used as the only diagnostic character to separate the two 'main' genera of the subfamily, Acutisoma and Goniosoma, from each other (see discussion in 'Taxonomy'). Females have angles more armed than those of males, but among males there is more variation. These spines appear in males in Serracutisoma pseudovarium + S. thalassinum and autapomorphically in S. proximum and in Heteromitobates anarchus.
57 – Epidermic pigmentation – dorsal scute of male [0-1;0-2]:
0 – with a frame, with homogeneous pigmentation (Figs 193, 224)
1 – totally homogeneous (without a frame) (Fig. 209)
2 – with a frame, with fragmented pigmentation (Figs 212, 228)
Epidermic pigmentation can be distributed homogeneously or as a frame (see 'Terminology'). In the this case, it can be fragmented or homogeneous in the frame. The frame disappears, allowing an homogeneous pigmentation in Serracutisoma banhadoae + and in Acutisoma coriaceum. The fragmented pigmentation appears in Heteromitobates with a reversion in H. albiscriptus + H. anarchus. It is interesting to note that this reversion is followed by a general increase in pigmentation, since these species are black.
58 – Epidermic pigmentation – dorsal scute of female [0-1;0-2]:
0 – with a frame, with homogeneous pigmentation (Figs 193, 224)
1 – totally homogeneous (without a frame) (Fig. 209)
2 – with a frame, with fragmented pigmentation (Figs 212, 228)
There is a difference in coloration between males and females in some species. In females, the fragmented pigmentation appears in Heteromitobates and in Serracutisoma fritzmuelleri +, with reversions in S. molle and in S. pseudovarium. The reversion observed in the males of two species of Heteromitobates was not detected among females. In Serracutisoma, while males of S. banhadoae + show 'homogeneous pigmentation', females of S. fritzmuelleri + have 'fragmented frame pigmentation' (with a reversions in S. molle and S. pseudovarium). Thus, this species-group of Serracutisoma has the greatest variation in colour between sexes. State 1 was not observed among females of Goniosomatinae, being restricted to the outgroup.
59 – Epidermic pigmentation – light rings adjacent to the joint of tibia and metatarsus of legs:
0 – absent
1 – present
These rings are formed by a lack of pigmentation on the apex of the tibia and the base of the metatarsus. It appears in Serracutisoma proximum +, in Goniosoma varium +, and in Heteromitobates inscriptus.
60 – Coloration, dry-mark – on apex of coxa and base of femur IV:
0 – absent
1 – present
Synapomorphy of Goniosomatinae.
61 – Coloration, dry-mark – on trochanter IV [0-1-2-3]:
0 – absent
1 – on base
2 – on base and apex, separated
3 – from base to apex
State 1 appears as a synapomorphy of Goniosomatinae with an autapomorphic reversion (to state 0, which is also observed in the outgroups) in Serracutisoma fritzmuelleri. Afterwards, state 2 appears in Heteromitobates +, changing to state 3 in (H. discolor + H. inscriptus)+(H. albiscriptus + H. anarchus) and in M. taquara. A reversion to state 1 occurs in A. hamatum + A. longipes, although this condition is polymorphic. In addition, state 3 independently appears in S. proximum.
62 – Coloration, dry-mark – serous layer reduced around granules of dorsal scute:
0 – absent
1 – present (Fig. 207)
This layer allows a grayish aspect to the animal. In S. banhadoae +, this layer reduces around granules, forming dark circles. This character changes together with character 57 (homogeneous pigmentation) and character 63 (absence of dry-mark), giving a very homogeneous coloration to these animals.
63 – Coloration, dry-mark – on dorsal scute:
0 – present
1 – absent
Presence of dry-mark will be detailed in the next 6 characters. This character was used to code only once for the absence of a dry-mark instead of six times, if we considered the next six characters. Anyway, no difference in topology was observed using one method or the other.
64 – Coloration, dry-mark – following grooves of areas [0-1-2]:
0 – absent
1 – as a frame (e.g. Fig. 190)
2 – as a large cross (Fig. 197)
Dry-mark following grooves of areas of abdominal scute, i.e. as a frame, is a synapomorphy of Goniosomatinae. Reversions occur in Serracutisoma spelaeum +, in S. banhadoae +, in Acutisoma coriaceum, in Goniosoma macracanthum, and in G. calcar + G. unicolor. Dry-mark in cross appears in G. dentipes.
65 – Coloration, dry-mark – around granules:
0 – absent
1 – present (Fig. 195)
This type of dry-mark gives a punctate aspect to the body, and it appears autapomorphically twice: in Mitogoniella indistincta and in Goniosoma roridum.
66 – Coloration, dry-mark – before the eye mound [0-1-2]:
0 – absent
1 – narrow stripe (Fig. 224)
2 – as wide as the eye mound (Fig. 226)
This region presents a longitudinal stripe of dry-mark in some species. State 1 appears twice: in Heteromitobates and in Mitogoniella unicornis + (with a reversion in M. indistincta). State 2 appears, from state 1, in H. harlequin and H. anarchus, and, independently, directly from state 0, in Goniosoma varium +.
67 – Coloration, dry-mark – on the carapace, behind eye mound [non-additive]:
0 – absent
1 – Y (Fig. 204)
2 – empty triangle (Fig. 224)
3 – full triangle (Fig. 230)
4 – as a frame (Fig. 190)
5 – round spot (Fig. 202)
State 3 appears in Heteromitobates +, changing twice to state 4: in H. alienus + H. harlequin and in M. modesta +; a single time to state 2, in H. albiscriptus + H. anarchus; and a single time to state 5, in A. coriaceum. State 1 appears independently at the node of Serracutisoma (using ACCTRAN), with 2 changes to 'absent' soon after in S. spelaeum + and in S. banhadoae +, with state 5 appearing in S. spelaeum. State 5 appears additionally twice, in Pyatan and in Goniosoma carum (using DELTRAN). State 4 appears in G. varium +, and state 5 appears independently in G. dentipes + G. ensifer.
68 – Coloration, dry-mark – round spot in between main elevations of area III [non-additive]:
0 – absent
1 – present, not divided (Fig. 202)
2 – present, divided longitudinally (Fig. 190)
State 1 occurs in the group Pyatan + Goniosoma. It changes to state 2 in G. varium + and it is lost in G. macracanthum and in G. apoain +, with a reappearance of state 2 in G. calcar.
69 – Coloration, dry-mark – dots on the lateral margins of the dorsal scute [0-1-2]:
0 – absent
1 – in the carapace (Fig. 202)
2 – in the entire margin (Fig. 232)
State 1 occurs in Heteromitobates +. A reversion occurs in the two more basal species of Heteromitobates (H. alienus + H. harlequin). State 2 appear in the genera Mitogoniella + Acutisoma, and, independently in Goniosoma roridum. Actually, in this species, the whole dorsal scute is covered with dots (see character 65).
70 – Pedipalps – long pedipalp (longer than the dorsal scute) and robust:
0 – absent
1 – present (e.g. Figs 196 and 231)
Synapomorphy of Goniosomatinae. Although the subfamilies Caelopyginae, Progonyleptoidellinae and Sodreaninae have long pedipalps (see character 86), those of Goniosomatinae were coded in a different manner since there are shorter but more robust, and the structure seems to be different.
71 – Pedipalps – number of lateral setae of femur [0-1-2;0-3]:
0 – 1
1 – 1 or 2
2 – 2
3 – absent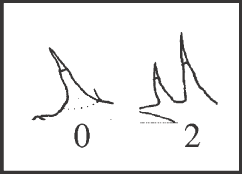 These setae are placed at the retrolateral subapical area of the femur and are very conspicuous. The second seta (states 1 and 2) is much shorter and more apically placed. We decided to code a different state for polymorphism because: (1) polymorphic species present similar rates of femora with 1 or 2 setae; (2) the polymorphism may occur in the same animal, when both pedipalps are observed; and (3) it appears in a great number of species. The polymorphic condition appears in Heteromitobates + with autapomorphic reversions in H. alienus, in A. hamatum, and in M. indistincta. State 2 appears in H. inscriptus and H. anarchus (although this species is known only from one specimen, the male holotype), and, independently, in Goniosoma varium +. State 1 also occurs in S. molle, in G. vatrax, and in G. calcar+G. unicolor, changing to state 2 in G. unicolor. State 3 appears only in the outgroup.
72 – Pedipalps – pattern of ornamentation of the ventral region of the femur [0-1-2-3]:
0 – 1 I
1 – 1 I, but with i's like tubercles
2 – 2 I's
3 – 3 I's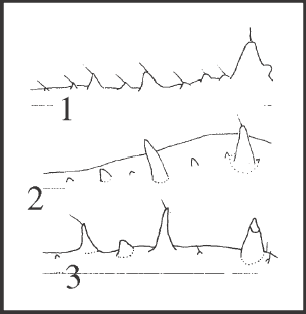 There is a great variation in the general ornamentation of ventral femur, and this variation could only be addressed with the number of high elevations. State 1 is a synapomorphy of Goniosomatinae, in which it only persists in Acutisoma and in Mitogoniella modesta. State 2 appears in Heteromitobates, in the rest of Mitogoniella, and in the large clade Serracutisoma +. State 3 appears independently in H. discolor, in M. unicornis, in M. taquara, in G. carum, in G. varium, in G. capixaba, and in G. apoain +.
73 – Pedipalps – ventral–retrolateral region of patella [0-1-2]:
0 – smooth
1 – with a tubercle
2 – with a spine
This elevation is the largest in patella and can be easily distinguish from other granules of this segment. State 1 is a synapomorphy of Goniosomatinae, following the tendency in the subfamily to bear a strongly armed pedipalp. State 2 only appears in Goniosoma carum and in (G. dentipes + G. ensifer)+, with reversions in G. unicolor and G. dentipes.
74 – Pedipalps – sub-basal ventral–prolateral region of tibia [0-1-2]:
0 – smooth
1 – with a tubercle
2 – with a spine
This is the only elevation of tibia which varies within the subfamily. It can be used for species diagnosis and phylogenetic purposes, while the rest of the armature is similar in all species. State 1 is a synapomorphy of Goniosomatinae. State 2 appears synapomorphically in G. apoain +, and autapomorphically in five more species (three in Goniosoma).
Characters 75–83 are related to granulation (and are illustrated in Figs 1–5) and should be considered continuous. As already stated, state 0 and the last state of continuous characters represent respectively the minimum and the maximum values observed in the range in these characters. The plesiomorphic state at the node of Goniosomatinae is discussed after each character.
75 – Granules – size of granules of areas and carapace:
0 – minute
1 – small
2 – medium-sized
3 – large
4 – very large
State 1 is the plesiomorphic state in the subfamily. In general, there is a tendency for a reduction of these granules in Pyatan + Goniosoma. Granules increase in Serracutisoma proximum + and in Mitogoniella indistincta + M. taquara (state 2), and in S. molle + (state 3).
76 – Granules – size of granules at the posterior margin and free tergites:
0 – absent (almost smooth segments)
1 – minute
2 – small
3 – medium-sized
4 – large
5 – very large
It shows an evolution pattern similar to that of the last character. However, a reduction to minute (state 1) occurs in Heteromitobates and in Pyatan + Goniosoma.
77 – Granules – size of granules of lateral margins:
0 – minute
1 – small
2 – medium-sized
3 – large
It also shows a evolution pattern similar to that of last characters, but with an additional reduction in Serracutisoma guaricana + S. spelaeum.
78 – Granules – density of granules at the posterior margin and free tergites:
0 – low
1 – medium
2 – high
State 1 is the plesiomorphic state in the subfamily. State 0 occurs in Serracutisoma and in Mitogoniella indistincta + M. taquara, and state 2 occur in Pyatan + Goniosoma (with a reversion in G. varium +) and in Heteromitobates discolor + H. inscriptus.
79 – Granules – density of granules of lateral margin:
0 – low
1 – medium
2 – high
State 0 is the plesiomorphic state in the subfamily (using DELTRAN). State 1 occurs in Goniosoma (with a reversion in G. capixaba), and, with increasing density, in Heteromitobates and in Mitogoniella.
80 – Granules, venter – size of granules at the posterior margin of the stigmatic area and free sternites:
0 – absent (almost smooth segments)
1 – minute
2 – small
3 – medium-sized
State 1 is the plesiomorphic state in the subfamily. States 2 and 3 occur respectively in Serracutisoma banhadoae + and in Acutisoma. A reduction of granules occur in Goniosoma calcar + G. unicolor.
81 – Granules, venter – size of granules of coxa IV:
0 – minute or almost smooth
1 – small
2 – medium-sized
State 1 is the plesiomorphic state in the subfamily. Reductions occur in the large group Serracutisoma + (with a reversion in S. proximum +), in Heteromitobates alienus + H. harlequin and in Mitogoniella unicornis + (with a reversion in M. indistincta). State 2 occur in Acutisoma hamatum + A. longipes and in Serracutisoma pseudovarium + S. thalassinum.
82 – Granules, venter – density of granules at the posterior margin of the stigmatic area and free sternites:
0 – low (≤2)
1 – medium (>2, <4)
2 – high (≥4)
State 1 is the plesiomorphic state in the subfamily. Increase in density of granules occurs in Heteromitobates +, in Goniosoma (with 3 reversions) and again in G. roridum + G. venustum. Reduction in density of granules occurs twice, autapomorphically, in G. dentipes and in Serracutisoma inerme.
83 – Granules, venter – density of granules of coxa IV:
0 – low (≤2)
1 – medium (>2, <4)
2 – high (≥4)
State 1 is the plesiomorphic state in the subfamily. Reduction in density occurs in Serracutisoma fritzmuelleri + and in Goniosoma dentipes + G. ensifer. Increase in density occurs in Goniosoma carum, in two species of Serracutisoma, three of Heteromitobates, and two of Mitogoniella.
Characters 84–92 were used to address the outgroup relationship.
84 – Tarsus of pedipalp biconvex:
0 – absent
1 – present
State 1 appears in Caelopygus elegans and Metarthrodes pulcherrimus (Caelopyginae), Progonyleptoidellus striatus (Progonyleptoidellinae), Zortalia leprevosti (Sodreaninae), and Acrogonyleptes unus (Hernandariinae).
85 – Short ventral spines in two medial rows on tarsus of pedipalp:
0 – absent
1 – present
Same distribution as in the previous character.
86 – Elongate, cylindrical, and thin pedipalps:
0 – absent
1 – present
2 – extremely elongated
State 1 appears in Caelopygus elegans and Metarthrodes pulcherrimus (Caelopyginae) and Progonyleptoidellus striatus (Progonyleptoidellinae). Zortalia leprevosti (Sodreaninae) presents state 2.
87 – Articles of tarsus IV semispherical:
0 – absent
1 – present
State 1 appears in Caelopygus elegans and Metarthrodes pulcherrimus (Caelopyginae) and Progonyleptoidellus striatus (Progonyleptoidellinae).
88 – Anal operculum with subcuticular white mark:
0 – absent
1 – present
State 1 appears in Caelopygus elegans and Metarthrodes pulcherrimus (Caelopyginae).
89 – Setae of apical group of penis long and helicoid:
0 – absent
1 – present
State 1 appears in Caelopygus elegans and Metarthrodes pulcherrimus (Caelopyginae), Progonyleptoidellus striatus (Progonyleptoidellinae), Zortalia leprevosti (Sodreaninae), Acrogonyleptes unus (Hernandariinae), and Neosadocus variabilis and Sphaerobunus pulcher (Gonyleptinae).
90 – number of areas in the dorsal scute:
0 – 4
1 – 3
State 1 appears in Caelopygus elegans and Metarthrodes pulcherrimus (Caelopyginae), Progonyleptoidellus striatus (Progonyleptoidellinae), Zortalia leprevosti (Sodreaninae), Acrogonyleptes unus (Hernandariinae), Neosadocus variabilis and Sphaerobunus pulcher (Gonyleptinae), Roeweria virescens (Pachylinae), and Goniosomatinae.
91 – Dry-mark on free tergites:
0 – absent
1 – present
State 1 appears in Longiperna cancellata and Promitobates viridigranulatus (Mitobatinae).
92 – Leg IV of male much longer than leg II:
0 – absent
1 – present
State 1 appears in Longiperna cancellata and Promitobates viridigranulatus (Mitobatinae).
Characters 93–97 are related to morphometric and meristic characteristics and should also be considered continuous. We followed the coding method presented by Thiele (1993). States represented by a single value indicate an autapomorphy of a species. Again, state 0 and the last state of continuous characters represent the minimum and the maximum values of the range observed in these characters. For each species, we used 10 specimens (whenever possible) in order to obtain an average number that could be used as representative of the species.
93 – number of granules on areas:
0 – 8 to 12.62
1 – 13.5 to 13.8
2 – 21.5 to 21.54
3 – 22.33 to 26.4
4 – 29 to 31.25
5 – 33.1
6 – 42.83
8 – 52.2 to 53.9
9 – 59 to 61
94 – distance between coxae of leg IV/length of dorsal scute rate:
0 – 1.14 to 1.17
1 – 1.22
2 – 1.25 to 1.32
3 – 1.33 to 1.38
4 – 1.40 to 1.48
5 – 1.49 to 1.53
6 – 1.62
7 – 1.72
8 – 1.91
9 – 2.01
95 – number of articles of tarsus II:
0 – 9
1 – 11.5 to 12
2 – 14
3 – 15
4 – 16.2 to 18
5 – 18.3 to 20
6 – 20.2 to 22
7 – 22.5 to 22.6
8 – 24.8 to 26.1
9 – 27 to 28.9
96 – length of leg II/length of dorsal scute rate:
0 – 5.34 to 5.71
1 – 5.84 to 6.21
2 – 7.19 to 7.31
3 – 7.66 to 8.5
4 – 8.74 to 9.55
5 – 9.97 to 11.2
6 – 11.7 to 12.5
7 – 13.1 to 13.7
8 – 17.4 to 18.7
9 – 19.4 to 20.6
97 – length of femur IV/length of dorsal scute rate:
0 – 1.25
1 – 1.37 to 1.51
2 – 1.62 to 1.82
3 – 1.86 to 2.12
4 – 2.19 to 2.50
5 – 2.52 to 2.89
6 – 3.09 to 3.41
7 – 3.8 to 3.95
8 – 4.08 to 4.57
9 – 5.64 to 5.81