Farm and Small Business Record Book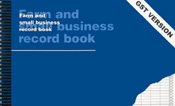 Enables you to keep good records for taxation and for the management of your business.
Keeping accurate records is vitally important to the successful management of any farm, small business, or organisation, where financial transactions take place, especially with the introduction of the GST. + Full description
Now updated to allow for recording the GST, Farm and Small Business Record Book GST Version will enable users to keep precise records for taxation, and for the ongoing management of their business.
Split into five easy-to-use sections, including record payments, receipts, bank reconciliation, and inventories, the text also provides straightforward instructions with worked examples to illustrate how simple it is to incorporate this best-selling tool into your business.
- Short description
Details
Paperback | June 2000 | $ 49.95
ISBN: 9780643066021 | 97 pages | 360 x 250 mm
Publisher: Landlinks Press
Illustrations