Australia: State of the Environment 2001 Inland Waters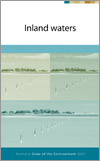 The Inland Waters theme report was commissioned to provide the technical background information for the SoE 2001 report and builds on Chapter 7 of the Australia State of the Environment 1996 report. It provides an evaluation of the state of Australia's inland waters over the last five years.

The theme report uses a set of environmental indicators developed to identify trends and chart responses to issues related to our environment and inland waters.

This report contains a wealth of information suitable for a range of users, including students, teachers, researchers and anyone with an interest in the environment.

Seven theme reports form part of the SoE 2001 series. They are:
The Australia State of the Environment (SoE) 2001 report was prepared by the independent Australian State of the Environment Committee for the Commonwealth Minister for the Environment and Heritage. The report provides an assessment of the 'big picture' of the state of Australia's environment at the beginning of the 21st century.