From Fleece to Fabric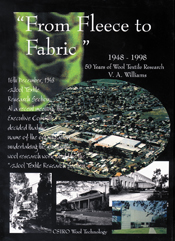 Fifty Years of Wool Textile Research
Fifty Years of Wool Textile Research.
The history of wool textile research in Australia is the story of how a partnership between woolgrowers, The Woolmark Company and the CSIRO provided the basis to consider and solve wide ranging technological issues leading to product innovation. Through targeted research and development, the industry has become a world leader and is able to successfully compete on a truly global scale. + Full description
From Fleece to Fabric provides an overview of the gifted and talented people who contributed to the success of the wool industry during 1948 – 1998 and how research by CSIRO's Wool Technology group helped create one of the nation's main export industries.
- Short description
Details
Paperback | January 1998 | $ 30.00
ISBN: 9780643064461 | 198 pages
Publisher: CSIRO Wool Technology
Illustrations
Contents
Foreword
Introduction
Formation and Development
Turning Points & Reformation
Honours & Awards
Strategies & Outcomes
Conferences, Colloquia & Reports
Fundamental Studies
Leather Research Centre
On-Farm Practices & Downstream Consequences
Harvesting & Packaging for Transport
Raw Wool Marketing
Scouring & Carbonising
Early-stage Physical Processing
Yarn and Fabric Formation
Coloration
Insectproofing
Felting & Shrinkproofing
Garment performance
Clothing Comfort
Product Durability
Product Innovations
Instrumentation & Quality Assurance Testing
Short-staple System Research
Divisional Staff Lists
Index