Marine Flatworms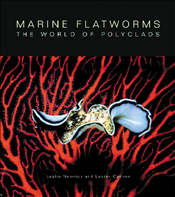 The intriguing and colourful world of Polyclads - free-living marine flatworms.
Marine Flatworms provides a fascinating introduction to the intriguing world of polyclad flatworms, a group of large, free-living marine Platyhelminthes, which are found throughout the world but are most colourful in tropical waters. Although not related to molluscs, they are often mistaken for sea slugs because of their brilliant colour patterns. + Full description
Written in an accessible style by two leading experts in the field, this book explores flatworms' unusual structure, feeding habits, their curious reproductive behaviour (including 'penis fencing'), their mimicry and toxicology.
With a foreword by Professor Reinhardt Kristensen of the Copenhagen Zoological Museum, Marine Flatworms is the first comprehensive guide to polyclad families and genera. It contains more than 300 colour photographs from every part of the world.
- Short description
News
No longer available in a print edition.
Reviews
"Marine Flatworms is a must-have book. It is one of those rare works that are informative, enjoyable and useful at both a general and technical level, for the specialist and non-specialist alike."
Shane Ahyong, Australian Museum (Nature Australia, Winter 2004)
"This is at once an astonishing picture book and an accessible journey to the boundaries of scientific knowledge."
Habitat Australia, August 2003

"The unusual biology, habits and ecology of polyclads are expertly described and the photography throughout the book is brilliant. . . Marine Flatworms is both a great coffee table book and reference book. . . Quirky polyclad characteristics are lucidly described without undermining the scientific accuracy of the information presented. . .This is an essential reference for marine naturalists, professionals and anyone wanting to broaden their general knowledge on the diversity of marine life."
Nicola Udy (Wildlife Australia Magazine, Summer 2003)
Details
ePDF | April 2003
ISBN: 9780643101197
Publisher: CSIRO Publishing
Available from
eRetailers
Features
Over 300 stunning full colour photographs
Brings together polyclads worldwide
Newly developed key to polyclad families
Contents
Introduction
The world of worms
Flatworms (Phylum:Platyhelminthes)
Segmented Worms (Phylum: Annelida)
Round worms (Nematoda)
Other worms
The polyclad body
Habitat and lifestyle
Colours and patterns
Food and feeding
Sex and reproduction
Toxins, warning colours and mimicry
Collecting, handling & identification
Guide to the commoner polyclads
Glossary
References
Index of species