Polychaetes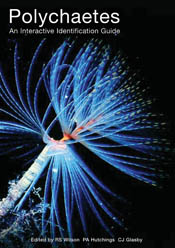 An Interactive Identification Guide
An interactive CD identification guide to 83 polychaete families and 1150 living genera.
Polychaetes: An Interactive Identification Guide brings together new and existing information making polychaete identification simpler and more accurate. Eighty-three families and about 1150 living genera of polychaetes are recognised worldwide, and all can be identified using this practical, easy-to-use CD-ROM. In addition, most of the known Australian polychaete fauna – more than 1200 species – can also be identified. All interactive keys have been developed in DELTA software using the interactive identification program Intkey. + Full description
A browser interface provides quick access to this rich information package. A detailed Overview section includes general notes on polychaetes, study methods. Also provided for each family of polychaetes are diagnoses, diversity and natural history data, identification tips and principal references, making this a valuable resource on polychaete diversity anywhere in the world. In addition, checklists and interactive keys comprise the best available identification guide to all known Australian polychaete species.
Winner of a 2004 Whitley Award.
- Short description
Reviews
". . . a remarkably powerful, yet user-friendly tool. . . This work makes specialist knowledge readily accessible to non-specialist."
Shane Ahyong (Nature Australia, Winter 2004)
"I would recommend any person who routinely identifies polychaetes to purchase it . . . This is a significant new resource . . . The editors and authors are to be congratulated on having produced such an excellent tool."
Danny Eibye-Jacobsen, Zoological Museum, Denmark (Ophelia 58/1, 2004)
"This program will be useful in marine invertebrate biology courses and for those involved in an environmental research that requires identification of marine organisms."
A.J. Kohn, emeritus, University of Washington (CHOICE v.41 no.8, April 2004)
". . . it wil be particularly useful in Australia where identifying polychaete worms has always been difficult, as there are many species in existence in our waters and not enough experts qualified to identify them."
Museum Victoria Magazine, Summer 2003
Features
All currently recognised living polychaete families are listed, illustrated and diagnosed
All currently recognised living polychaete genera are diagnosed, and many are illustrated
Rapid identification of genera and Australian species as required, by both specialist and non-specialist users
Fully illustrated characters enabling the user to quickly gain knowledge of the group required for identification
An illustrated glossary of all characters
System Requirements
Note that
Polychaetes
is a Windows only program.
Windows 98, Me, NT, XP or higher
Internet Explorer 5.0 or greater
SVGA monitor (800 x 600 recommended)
CD-ROM drive