Flatworms Set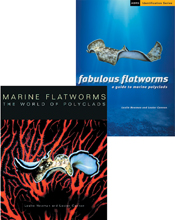 Marine Flatworms: The World of Polyclads + Fabulous Flatworms: A Guide to Marine Polyclads
The Flatworms Set contains Marine Flatworms: The World of Polyclads and Fabulous Flatworms: A Guide to Marine Polyclads.

Marine Flatworms provides a fascinating introduction to the intriguing world of polyclad flatworms, a group of large, free-living marine Platyhelminthes, which are found throughout the world but are most colourful in tropical waters. Although not related to molluscs, they are often mistaken for sea slugs because of their brilliant colour patterns.

The CD-ROM Fabulous Flatworms enables users to distinguish and learn about hundreds of marine polyclads, commonly known as flatworms. Using an innovative key based on body patterns, it allows both amateurs and specialists to identify these beautiful underwater creatures.