Living in the Hothouse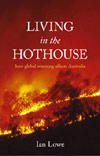 How Global Warming Affects Australia
A comprehensive review of global warming and an explanation of the effects it will have on our daily lives.
In Australia and around the world the signs of global warming are dramatic and disturbing. There can no longer be any question that climate change is happening, that it can be traced to human activity, and that we need to respond urgently if we are to prevent quite catastrophic changes to global systems. Australia's fragile environment leaves us extremely vulnerable to the effects of climate change, yet we have so far refused to ratify the Kyoto Protocol.

Living in the Hothouse presents a comprehensive review of the current scientific knowledge of global warming and a balanced explanation of the effects it will have on our daily lives — on climate, land use, energy and water consumption, on agriculture and land use, and on industry and our economy. Among other changes, we need to prepare for:
more severe bushfires,
less water availability in southern Australia,
more intense heat during summer,
greater risk of insect-borne diseases,
and a greater incidence of extreme weather — more floods, longer and more intense droughts and more frequent, severe and widespread tropical cyclones.
Professor Ian Lowe has been studying climate change for many decades.
Living in the Hothouse
will help all Australians to understand the challenges of global warming and to take responsibility for planning and creating a sustainable future.