Wildfire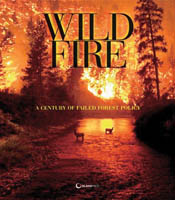 A Century of Failed Forest Policy
Edited by:
Ecological, economic, historical and socio-political analyses of the wildfire process.
With more than 150 dramatic photographs, Wildfire: A Century of Failed Forest Policy covers the topic of wildfire from ecological, economic, and social/political perspectives while also documenting how past US forest policies have hindered natural processes, creating a tinderbox of problems that we are faced with today. + Full description
More than 25 leading thinkers in the field of fire ecology provide in-depth analyses, critiques, and compelling solutions for how we live with fire in our society. Using examples such as the epic Yellowstone fires of 1988, the ever-present southern California fires, and the Northwest's Biscuit Fire of 2002, the book examines the ecology of these landscapes and the policies and practices that affected them and continue to affect them, such as fire suppression, prescribed burns, salvage logging, and land-use planning. Overall, the book aims to promote the restoration of fire to the landscape and to encourage its natural behaviour so it can resume its role as a major ecological process.
- Short description
Details
Paperback | October 2006 | $ 89.95
ISBN: 9781597260701 | 350 pages
Publisher: Island Press, USA
Index, Photographs