Native Plant or Weed?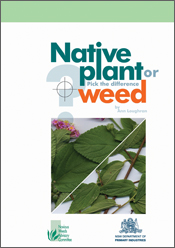 Pick the Difference
Edited by:
An essential field guide for farmers, bush regenerators and all those involved in landcare.
Pick the difference between native plants and weeds. Full-colour photographs of weed and 'look alikes' sit side-by-side with explanatory notes. This is an essential field guide for those involved in landcare, farmers and bush regenerators in coastal and high-rainfall areas. + Full description
Please note that this book is spiral-bound.
- Short description
Details
Paperback | July 2006 | $ 24.00
ISBN: 9780731305988 | 68 pages
Publisher: NSW Department of Primary Industries
Colour photographs