The CSIRO Total Wellbeing Diet Set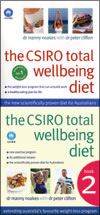 The Total Wellbeing Diet, developed by Australia's CSIRO, is not just another diet, but a long-term eating plan.
The CSIRO Total Wellbeing Diet Set contains both Book 1 and Book 2. + Full description
The CSIRO Total Wellbeing Diet (RRP $34.95)
This easy-to-use, scientifically tested and nutritionally balanced diet can really work, helping you lose weight permanently. It can also help keep your hunger satisfied, helping you to reach and maintain your target weight.
With 85 mouth-watering recipes and 12 weeks of varied meal plans to get you started, this book contains everything you need to know about the Total Wellbeing Diet – how to start, what to cook and how to keep the weight off for good.
Various food and agricultural industry bodies have provided funding towards part of CSIRO's research.
The CSIRO Total Wellbeing Diet Book 2 (RRP $34.95)
Following on from the phenomenal success of The CSIRO Total Wellbeing Diet, comes Book 2 of the diet. This companion volume provides everything you need to keep on track with your healthy new lifestyle: a summary of the essential principles of the diet; over 80 delicious new recipes, together with healthy ideas for taking your lunch to work and tips on eating out; and a simple, 'do anywhere' exercise program.
As with any complete wellbeing program, exercise is a key factor. Book 2 introduces an exercise program designed to assist and encourage the most resistant people off the couch, with simple and easy-to-follow exercises. Answering all the questions from Book 1's success including how appropriate is the diet for me and can certain foods be substituted to accommodate personal taste.
- Short description