Voyages of Discovery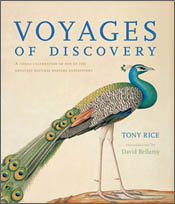 A Visual Celebration of Ten of the Greatest Natural History Expeditions
A beautiful illustrated volume which visually documents ten of the greatest natural history expeditions of all time.
Voyages of Discovery is a mesmerising visual record of ten of the most significant natural history expeditions. + Full description
Superb artworks and photographs spanning three centuries document advances and watersheds in the field of natural science. The stories behind these images – of explorers, naturalists, artists and photographers – entwine into a fascinating study of human achievement and natural wonder.
Among the many stories of adventure and great scientific endeavour are James Cook's perilous Pacific crossings and Darwin's historic voyage aboard the HMS Beagle.
Hand-picked from the vast Library of the Natural History Museum, London, the illustrations and artworks contained here form a rare collection, most of which are exclusively presented in this stunning book.
- Short description