Making Your Home Sustainable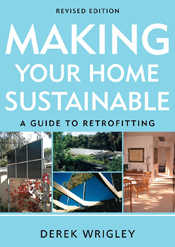 A Guide to Retrofitting
Revised Edition
Sustainable ideas, using natural energies, to improve existing houses in a cool-temperate climate.
In 1991, architect and solar consultant Derek Wrigley moved into a townhouse in Canberra and faced a new design challenge — how to retrofit an existing suburban house to use renewable energies rather than fossil fuels. Convinced that building design could do more to achieve sustainability, he developed a series of innovative devices to improve the energy efficiency of the house, and modified the existing design to work harmoniously with the local climate. + Full description
The house now generates about 15 per cent more electricity than it consumes, and the photovoltaic system should have a pay-back period of just under nine years. The house ventilates and cools itself without any electrical assistance or air conditioning, and greywater nourishes the garden. Derek has been advised that for every dollar spent on retrofitting, he is adding at least double that amount to the house's market value.
Making Your Home Sustainable is a practical and easy-to-follow guide for homeowners, builders, and architects who are concerned about the effects of climate change and environmental degradation, and who want to do something about reversing the trend. Derek Wrigley shows how simple modifications to existing homes can help to reduce emissions of greenhouse gases, and utilise natural rather than imported energies and resources. With detailed descriptions, and around 150 photographs and diagrams, this revised edition is the retrofitter's bible — an ideal, practical guide for anyone who wants to make their home more comfortable and to save money on energy bills, while increasing the value of their house and addressing the causes of global warming.
- Short description
News
As this title is sourced from another publisher, it is available for sale to individual customers only.
No discounts apply.
Details
Paperback | February 2012 | $ 45.00
ISBN: 9781921844171 | 144 pages
Publisher: Scribe Publications

Features
Identify retrofitting potential when buying a home
Provide sunshine in southern rooms, warmth in winter, and cool air in summer
Use ventilation and insulation to reduce the need for artificial heating or cooling
Install a solar hot-water system
Utilise wasted sunlight to heat and illuminate your home
Create a beautiful landscape which also contributes to your household energy efficiency
Install reflectors, sunshades, water recycling, heliostats, double-glazing, photovoltaics, water tanks, and other energy-saving and water-saving devices.