Little Bug Spotters Guide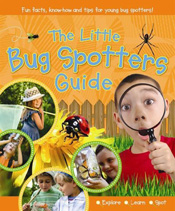 Fun facts, know-how and tips for young bug spotters.
The Little Bug Spotters Guide introduces curious young minds to the fascinating world of insects. The book is packed with all the insect basics: where they live, what they eat and, most importantly, where to spot them.
Meet beautiful butterflies, fuzzy caterpillars, buzzing bees, jumping grasshoppers, scary spiders and loads of other creepy-crawlies. They are all just waiting to be found by a little bug spotter in training!
Includes loads of great bug spotting tips. Discover everything you need to know about the wonderful world of bugs.