Perennial Grasses in Pasture Production Systems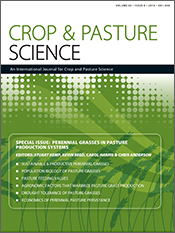 Crop & Pasture Science Special Issue Volume 65, Number 8
Edited by:
Brings together research findings which address key themes discussed at 'Perennial Grasses in Pasture Production Systems'
The 'Perennial Grasses in Pasture Production Systems' symposium held in May 2013 was organised by the Australian Grasslands Association (AGA). The symposium brought together participants from across Australia, as well as overseas delegates, to review past and current research and to discuss future directions for research into perennial grasses in Australia. Participants included researchers, producers, consultants, rural research and development corporation representatives and commercial suppliers. + Full description
The AGA developed a number of theme areas and invited papers from the broader scientific community as well as directly commissioning presentations from researchers working in key areas. The theme areas included:
Historical review
Pasture persistence
Developments and innovations in perennial grass agronomy, management and breeding
Opportunities and roles for perennial grasses in a changing climate
Quality and feed value in animal production systems
Predicting the next quantum leap in perennial grasses
The Special Edition of Crop & Pasture Science brings together research findings which address these key themes and discusses the main factors that affect perennial grass production in Australia.
Visit the Crop and Pasture Science home page. Online edition now available.
- Short description
Details
Paperback | August 2014 | $ 75.00
ISBN: CP65/08
Publisher: CSIRO Publishing