From Vines to Wines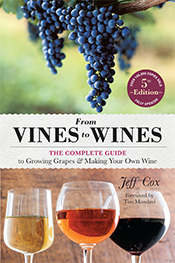 The Complete Guide to Growing Grapes and Making Your Own Wine
Fifth Edition
Learn the secrets of growing flawless grapes and how you can master every step of winemaking at home.
Wine connoisseurs, gardeners, and home winemakers will find the latest techniques and varieties discussed in this updated edition of From Vines to Wines. + Full description
With thorough, illustrated instructions, readers learn how to choose and prepare a vineyard site; construct sturdy and effective trellising systems; plant, prune, and harvest the right grapes for a particular climate; press, ferment, age, and bottle wine; and judge wine for clarity, colour, aroma, body and taste.
In this latest edition, Jeff Cox also explains how to select and grow grapes so that home winemakers can create their own sparkling wine, ice wine, port-style wine, and dessert wine. Find out some of the secrets of successful home winemakers and how you can make the most of your grapes at home.
- Short description