Australian Predators of the Sky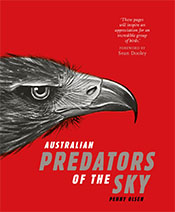 A stunning illustrated guide to Australia's birds of prey from first descriptions by European explorers through to today.
Our relationship with the birds of prey has always been conflicted. Raptors are admired for their strength and independence, but despised for their depredations on livestock and favourite garden birds, while the owls are at once respected for their wisdom and watchfulness and feared for their mournful cries and association with darkness and ill-omen. + Full description
The book begins with a fascinating chapter on the European discovery of birds of prey in Australia—for example, the earliest sightings of eagles by William Dampier's expedition in 1699 in south-western Australia and Captain James Cook's reports of kites, hawks, eagles and owls at Endeavour Bay in Queensland in 1770; the naming and describing of species in the nineteenth century; and John Gould's visit to Australia to describe and illustrate its birds, including the birds of prey which filled the first of the seven volumes his The Birds of Australia in the 1840s. Another chapter describes the physical characteristics of birds of prey, their distribution, their hunting methods and other ecological features. For each species, a distribution map is provided, as well as the origins of its scientific name. Several full-colour illustrations of the species by various artists are accompanied by intriguing notes about the bird.
Australian Predators of the Sky comprises over 200 striking paintings, lithographs and engravings of all 34 Australian species—25 diurnal birds of prey and nine owls. From odd-looking first depictions to stunning, detailed portrayals of the species, the illustrations cover more than two centuries of bird art, selected from the National Library of Australia's collection. The artists include George Raper and John Hunter (First Fleet naval officers), Sarah Stone, John and Elizabeth Gould, Henry Constantine Richter, Henrik Grönvold, Ellis Rowan, Neville Henry Cayley, Lionel Lindsay, Lilian Medland, Ebenezer Edward Gostelow, and, more recently, Betty Temple Watts, Frank Knight and Jeff Davies.
- Short description