All About Garden Wildlife of Australia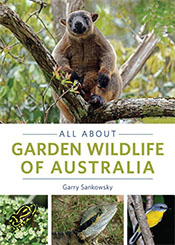 A guide to identifying garden wildlife and how to encourage more animals to call your backyard home.
Our backyards form an important habitat for wildlife, providing food, shelter and a place to live and breed for countless species of birds, mammals, insects, reptiles and amphibians. This useful guide has many identification spreads on key species and families of wildlife likely to be encountered. It also looks at ways of improving and enhancing your garden so that it can offer the most opportunities for wildlife and therefore the greatest amount of enjoyment to its owners. All in all it is an essential read for anyone hoping to create a haven for nature on their doorstep.