Mosses of Dry Forests in South Eastern Australia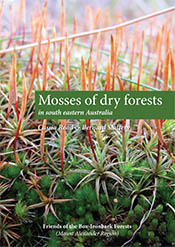 A pocket sized field guide to the hidden and often overlooked world of mosses.
Moss. From a distance it appears as a green smudge in the landscape: on rocks, between grasses, in gutters and brickwork, even on trees. But come closer: a micro world of amazing variety in colours, shapes and textures is there. It's an ancient world, of beautiful plants which play a key role in the health and preservation of our soils. + Full description
A pocket sized field guide for students and absolute beginners—technically accurate, but free of technical language— this is an attempt to present a little known part of the plant kingdom to a new audience.
The guide contains an introduction explaining the life cycle of mosses and their importance in the ecosystem; tips on how to approach identification; detailed descriptions of common, striking species; and appendices carefully distinguishing mosses from liverworts and lichens. Twenty nine main species are dealt with, each illustrated with multiple photos, and pointers are offered to less common species.
- Short description