Confined Spaces Agskills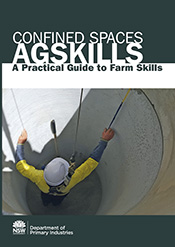 A Practical Guide to Farm Skills
A fully-illustrated guide to help identify and manage confined spaces on farms.
. Too many farmers, their family members and employees have lost their lives because they did not understand the hazards of a confined space and did not take the necessary control measures. This book shows the basic skills and practices for working safely in confined spaces on the farm, such as hoppers, grain silos, integrated feed systems, vats, tanks and pits. + Full description
Published in 2016 Confined spaces is part of the AgSkills series. It contains 78 full-colour A4 pages.
- Short description
News
As this title is sourced from another publisher, it is available for sale to individual customers only.
No discounts apply.
Details
Paperback | June 2016 | $ 25.00
ISBN: 9781742568850
Publisher: NSW Department of Primary Industries

Contents
What is a confined space?
Confined spaces on farms
Health and safety rules
Creating a confined space management program
Identifying hazards
Conduct confined space risk assessment
Atmospheric testing and monitoring
Confined space entry permit
Signs and barricades
Isolation
Making the atmosphere safe
Fire control
Respiratory protective equipment
Standby person
Rescue equipment
The confined space entry
Keeping records
Glossary
Legislation