Manuka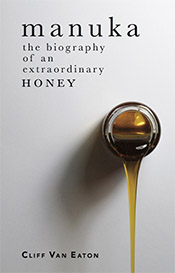 The Biography of an Extraordinary Honey
The incredible rags-to-riches story of a peculiar wonder-honey now known around the world.
Not so long ago, in a small island nation in the South Pacific, beekeepers produced a most peculiar honey. It was much darker than the clover honey everyone put on their toast in the morning, and it tasted very different. In fact, the honey was a problem: it was hard to get out of the combs, and even harder for beekeepers to sell. + Full description
Today that honey, manuka from New Zealand, is known around the world. It fetches high prices, and beekeepers do everything in their power to produce as much of it as possible. Wound dressings containing manuka honey are used in leading hospitals, and it has saved the lives of patients infected with disease-causing bacteria that are resistant to standard antibiotic drugs. In so doing it has forced the medical profession to rethink its position on the therapeutic properties of natural products.
This book chronicles the remarkable rags-to-riches story of manuka honey, as seen through the eyes of a New Zealand beekeeping specialist who watched it unfold from the very beginning. Its a great tale of science, in which an inquisitive university lecturer found something totally unexpected in a product everyone had written off. Its also an entertaining account of the way that seemingly simple discovery caught the attention of the international media, helping enterprising New Zealanders to develop manuka honey-based products and take them all around the globe.
But above all else its a story of hope for the future, sounding a note of optimism in a world that for good reason feels saddened and sometimes even afraid about the future of the special relationship we humans have always had with those marvellous creatures, the honey bees.
- Short description