Ecosystem Services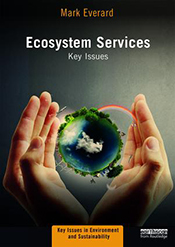 An introductory textbook setting out the key aspects of ecosystem services.
The concept of ecosystem services has emerged in recent years as one of the most powerful guiding principles for ecology, biodiversity conservation and the management of natural resources. It provides the basis of assessing the multiple values and services that ecosystems can provide to humankind, including such diverse issues as carbon sequestration, flood control, crop pollination and aesthetic and cultural services. This introductory textbook sets out the key aspects of ecosystem services. + Full description
The book details the historical roots of ecosystem services in the second half of the twentieth century and through initiatives such as the Millennium Ecosystem Assessment. It shows how ecosystem goods and services can be categorised and valued in economic as well as non-monetary terms, while also highlighting some of the difficulties and limitations of valuation techniques. The author describes how themes such as systems thinking, social-ecological resilience and natural capital relate to ecosystem services, and how these can contribute to more sustainable and equitable development. The book assumes limited prior knowledge and is aimed at a wide interdisciplinary audience of students across the social, environmental and life sciences. It is illustrated by a wide range of international case studies and includes learning objectives and guidance for further reading.
- Short description
News
As this title is sourced from another publisher, it is available for sale to individual customers only.
No discounts apply.
Details
Paperback | June 2017 | $ 61.99
ISBN: 9781138692725 | 188 pages
Publisher: Earthscan from Routledge
Illustrations
Contents
1. Introduction to Ecosystem Services
2. Origins and Evolution of the Concept and Practice of Ecosystem Services
3. Understanding Systems
4. Ethical Considerations
5. Valuing Ecosystem Services
6. International Initiatives to Embed Ecosystem Services
7. Putting Ecosystem Services into Practice
8. Regenerative Landscapes: Revising the Cycle
9. Ecosystem Services and the Pursuit of a Sustainable Future