Journeys into the Wild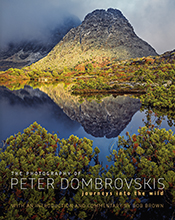 The Photography of Peter Dombrovskis
A selection of the sublime wilderness photography of Peter Dombrovskis.
Journeys into the Wild is a poetic escape to a fragile and breathtaking wilderness, with celebrated photographer Peter Dombrovskis as our guide. + Full description
A silhouette of a damaged twisted Pencil Pine, wearing a fine dusting of fresh snow and precariously positioned above the Pool of Siloam in the Walls of Jerusalem National Park, is like a portrait of a lively old friend. A fresh ice sheet, uniquely patterned, is coloured by the alpenglow, as the day's first sunlight reflects on a Cradle Mountain tarn. A flowering white Olearia pinifolia at the base of a massive boulder on Mount Wellington is a study in permanency and transience. Here, too, are photographs of the Snowy Mountains and the tropical rainforests of Queensland's Daintree and Hinchinbrook Island, Fiji, and Borneo.
Commentary and an extended introduction by Bob Brown allow readers to engage with the photographs on a deeper level.
- Short description