Rock Pool Secrets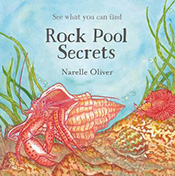 There are many rock pool secrets – see what you can find.
At first glance there's nothing much to see. But the rock pools are full of secrets. Nestling in crevices ... hiding in the seaweed ... camouflaged against the rocks ... What creatures will you find? Rock Pool Secrets features beautiful linocut artwork by award-winning author/illustrator Narelle Oliver and includes big, easy-to-use flaps and a glossary of rock pool creatures. + Full description
Engaging and elegant text by Narelle Oliver introduces young readers to the wonders that can be found in rock pools. The book has large, library friendly flaps, easy for young children to use, and contains a glossary giving information about the different creatures found in rock pools.
Readers will be introduced to many creatures who call a rock pool their home: colourful crabs, tiny shrimp, sea slugs, goby fish and turban snails, brought to life by Narelle's colourful linocut artwork.
Perfect for ages 4 onwards.
- Short description