Double Helix Lessons
Double Helix Lessons from CSIRO is a digital, interactive suite of science lessons for Years 5 and 6. It is simple and intuitive to use – both for teachers and students. The lessons allow children to learn by doing, using ideas they are already familiar with, such as natural disasters, plants, food and the solar system.
Mapped to the curriculum and based on content from our children's magazine, Double Helix, the classroom-ready activities, experiments and simulations provide teachers all the resources they need to teach science in upper primary school classrooms.
In 2017 Double Helix Lessons on an award for Primary Outstanding Digital Resource at the Educational Publishing Awards Australia, and was an highly commended in the category of Primary Student Resource – Arts/Science/Humanities.
For more information or to sign up for a free trial at doublehelixlessons.csiro.au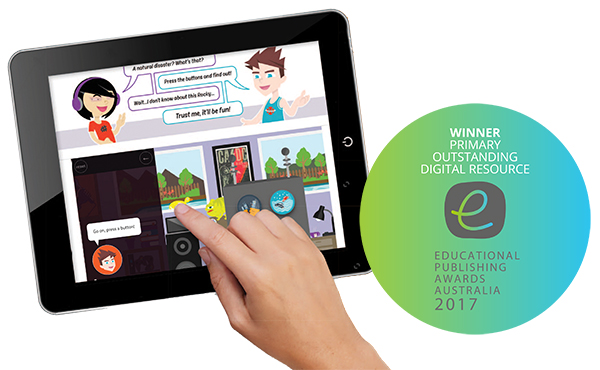 Features:
Curriculum-complete for Years 5 and 6: provides teachers everything they need to teach to the curriculum.
Developed by teachers for teachers: developed with advisory board including primary school teachers.
Utilises 5Es teaching model: encourages students to engage, explore, explain, elaborate and evaluate.
Interactive and uses cutting-edge technology including 360 degree video, augmented reality, virtual reality and more.
Fully customisable: teachers can add their own content or modify and delete questions using drag-and-drop editing tools.
Use any device, anywhere: can be used on web-connected tablets, laptops and computers – no additional software required.
Watch this overview of Double Helix Lessons:
Find out more about the student experience of using Double Helix Lessons in this video:
For more information or to sign up for a free trial at doublehelixlessons.csiro.au
We recently created a series of tips and tricks to help teachers familiarize themselves with some of the functionality within Double Helix Lessons. You can view these videos below.
Getting started with Double Helix Lessons
Leaving feedback and marking student work
Using the Markbook
Editing a lesson
Creating a new lesson from scratch
For more information or to sign up for a free trial at doublehelixlessons.csiro.au