Tree Hollows and Wildlife Conservation in Australia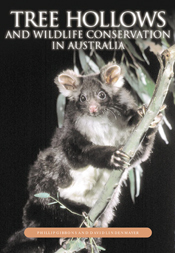 Examines the hollow-dependent fauna of Australia, looking at the development of hollows, selection by fauna, and pests and introduced species.
More than 300 species of Australian native animals — mammals, birds, reptiles and amphibians — use tree hollows, but there has never been a complete inventory of them. Many of these species are threatened, or are in decline, because of land-use practices such as grazing, timber production and firewood collection. + Full description
All forest management agencies in Australia attempt to reduce the impact of logging on hollow-dependent fauna, but the nature of our eucalypt forests presents a considerable challenge. In some cases, tree hollows suitable for vertebrate fauna may take up to 250 years to develop, which makes recruiting and perpetuating this resource very difficult within the typical cycle of human-induced disturbance regimes.
Tree Hollows and Wildlife Conservation in Australia is the first comprehensive account of the hollow-dependent fauna of Australia and introduces a considerable amount of new data on this subject. It not only presents a review and analysis of the literature, but also provides practical approaches for land management.
- Short description
News
No longer available in a print edition.
Reviews
"Everything you ever wanted to know about tree hollows and fauna – and then some!"
Penny Hussey (Western Wildlife v.6 no.3 July 2002)

"The retail price is a more-than-fair exchange for access to the insights of two of the world's leading authorities on the subject."
Harry Parnaby, Australian Museum (Nature Australia Summer 2002-2003)

"Philip Gibbons and David Lindenmayer have produced an excellent reference that should be on the shelves of all who work, study or are otherwise interested in land management, environmental science and/or ecology."
Jeffrey Cox, South Australian Museum (Ecological Management & Restoration v.3 no.3 Dec 2002)

"The book makes fascinating reading and is recommended for landowners across Australia."
Patrick Francis (Australian Landcare Dec 2002)

"Tree Hollows and Wildlife Conservation in Australia provides a very concise summary of the current knowledge of hollows, the species that use them, assessment techniques and various management issues."
Adam Fawcett, State Forests of New South Wales (Austral Ecology 28, 2003)

"It is a practically complete 'biology of tree hollows'…"
Research Committee Newsletter , European Association of Zoos and Aquaria Sep 2005
Details
ePDF | April 2002
ISBN: 9780643090033
Publisher: CSIRO Publishing
Available from
eRetailers
ePUB | April 2002
ISBN: 9780643099746
Publisher: CSIRO Publishing
Available from
eRetailers
Features
A unique single resource on tree hollows
Introduces new data
Provides practical approaches for management
Contents
Brief contents:
1 Introduction
2 The Hollow-Using Fauna of Australia
3 The Evolution of Hollow Use
4 Hollow Formation
5 The Inventory of Hollows and Hollow-Bearing Trees
6 The Selection of Hollows by Fauna
7 Hollow Numbers and Fauna Populations
8 Perpetuating Hollows
9 Pest and Introduced Species that Use Hollows
10 The Role of Nest Boxes in Research and Management
11 Concluding Remarks
Appendices
References
Index
View complete contents pages
.