Insects of Stored Products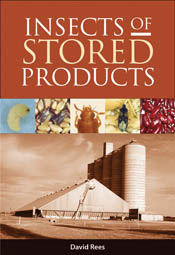 A well-illustrated guide to the identification, biology and ecology of the major pests of stored products.
Insect infestations in grains and other stored food and fibre products cause annual losses worth many millions of dollars worldwide. This illustrated guide enables specialists and non-specialists to distinguish the major pests of durable stored products found throughout the world. + Full description
It describes how to identify each pest group or species and summarises the latest information on their biology, ecology, geographical distribution, the damage they cause and their economic importance. Hundreds of colour photographs illustrate the identifying features of the most important beetles, moths, psocids, bugs and wasps found in stored products.
Essential details on inspection and trapping are included to aid in the early detection of infestations, allowing more time to plan and undertake effective pest control. An extensive bibliography provides a convenient entry point to the specialised literature on these insects.
This concise yet comprehensive reference is an essential tool for people responsible for the storage and handling of dried durable products of plant and animal origin worldwide.
- Short description
News
No longer available in a print edition.
Reviews
"This book would make a very nice text for students beginning to study stored-product insects or for those involved in the pest management business dealing with stored commodities."
Jim Leesch (Journal of Economic Entomology, February 2006)

"Insects of Stored Products is primarily written to be a basic identification manual and a description of stored-product insects, but it is also an excellent reference for persons with advanced knowledge."
Franklin K Arthur, USDA-ARS (Crop Science v.45 May-June 2005)
Details
ePDF | July 2004
ISBN: 9780643101128
Publisher: CSIRO Publishing
Available from
eRetailers
Features
Acts as both a field guide and a concise introduction to the major insect pests of stored products.
Contains numerous colour photographs for each species or group along with notes on identification.
Written by a member of CSIRO Entomology, one of the world's leading research groups on pests of stored products.
Contents
Acknowledgements
Preface
Insects as pests of stored products
Orders of insects associated with stored products
Beetles (Order: Coleoptera)
Moths and butterflies (Order: Lepidoptera)
Psocids, booklice and dust lice (Order: Psocoptera)
Bugs (Order: Hemiptera)
Parasitic wasps (Order: Hymenoptera)
Finding and trapping storage insects
Collecting, preserving and shipping specimens for identification
References and resources
Index to species