Model Code of Practice for the Welfare of Animals: Cattle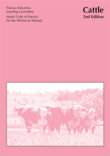 Defines acceptable practices necessary to meet the basic welfare needs of cattle.
This code is intended as a guide for all people responsible for the care and management of cattle. + Full description
The code aims to set an industry standard by defining acceptable cattle management practices in situations, which vary from extensive grazing to close confinement and housing. Whatever the form of husbandry, owners and managers have a responsibility for the health, welfare and considerate treatment of the animals under their control so that stress to the animals is minimised.
The basic needs of cattle for adequate food, water, air, shelter, comfort and freedom to move and express normal behaviour patterns are considered in this document, irrespective of the type of husbandry practiced.
- Short description
Details
Paperback | November 2004 | $ 25.00
ISBN: 9780643091160 | 32 pages | 248 x 175 mm
Publisher: CSIRO Publishing


PDF | November 2004 |
ISBN: 9780643091498 | 32 pages
Publisher: CSIRO Publishing

Contents
Contents
Basic welfare needs
Intensive cattle systems
Artificial rearing of calves
Cattle handling facilities, mustering and yarding
Management practices
Health
Agistment
Feral cattle
Humane destruction of cattle
Appendix 1 Water for Livestock
Appendix 2 Feed requirement guidelines