Forest Trees of Australia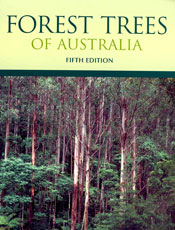 The classic Australian guide – now fully revised and updated with nearly 300 of Australia's most important native trees.
Forest Trees of Australia is the essential reference for observing, identifying and obtaining information on the native trees in this country. It describes and illustrates over 300 of our most important indigenous trees, which have been carefully selected for their environmental significance, their importance to the timber industry, or their prominence in our landscape. + Full description
This new and thoroughly revised edition has been fully updated throughout and includes treatments of 72 additional species. New maps and photographs show us a wonderfully diverse range of forests, from mangrove swamps, tropical regions and deserts, to alpine areas and majestic stands of temperate forests. A colour section illustrates some of the major forest types of Australia and bark from a diverse range of species.
Forest Trees of Australia is an unsurpassed guide to identification for horticulturists, botanists, foresters, students, farmers, environmentalists and all those who are interested in our native trees.
- Short description
Reviews
"There is no doubt that this is an accurate, reliable and well-presented book."
Leon Costermans, The Victorian Naturalist, May 2007

"Foresters, botanists, horticulturists, a wide range of students, farmers and all people interested in native Australian trees will find this text a valuable reference."
HW Markov (Biological Abstracts)

"As with the earlier editions it will be widely used as a valuable reference to assist in the identification and recognition of 300 of our most important indigenous trees."
Gwen Hardon, Australian Systematic Botany Society Newsletter 129 (December 2006)
Details
Hardback | December 2006 | $150.00
ISBN: 9780643069695 | 768 pages | 260 x 190 mm
Publisher: CSIRO Publishing
Bibliography, Glossary, Illustrations, Index, Maps, Photographs
ePDF | December 2006
ISBN: 9780643069701
Publisher: CSIRO Publishing
Available from
eRetailers
Features
New edition of a trusted, best-selling reference.
Includes a substantial number of new species descriptions—over 25% more than the previous edition—covering eucalypts, acacias, melaleucas and a treatment of the Wollemi pine.
Fully updated throughout, with the latest classification, climate, distribution and usage information.
Richly illustrated with black and white plates and two colour sections.