Estuary Plants and What's Happening to them in South-East Australia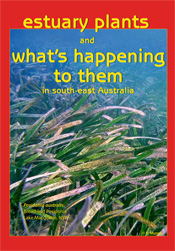 Gives species information on seagrasses, algae, lowmarsh and highmarsh plants as well as fringing and brackish estuary plants in south-east Australia.
This book is split into two sections, the first, a field guide, gives detailed species information about plants that grow in estuaries and protected saline areas along the coast of south-east Australia. Plants covered include seagrasses, algae, mangroves, lowmarsh and highmarsh plants and more. The second half of this book contains 23 chapters written by specialists on management, monitoring, rehabilitation, case histories, and ecological threats faced by this region.
News
As this title is sourced from another publisher, it is available for sale to individual customers only.
No discounts apply.
Details
Hardback | July 2012 | $ 85.00
ISBN: 9780958105538 | 656 pages
Publisher: Sainty & Associates
Illustrations, Maps, Photographs
Contents
Field Guide
Section authors' address list
Preamble
Introduction - Paul Adam
Estuarine micro-algae-an overview - Jo Green, Claudia Catterall, Jason Sonneman
Blooms and invasions of macro-algae in estuarine systems - Sharon Cummins, Tim Glasby, Danny Roberts
Algae - Alan Millar
Seagrasses of south-east Australia-an introduction - Hugh Kirkman, John Kuo
Seagrasses -John Kuo, Hugh Kirkman , Geoff Sainty, Surrey Jacobs
Mangroves of south-east Australia - Norm Duke
Mangroves - Norm Duke
Low saltmarsh - Geoff Sainty, John Hosking, Geoff Carr, Paul Adam
High saltmarsh - Geoff Sainty, John Hosking, Geoff Carr, Paul Adam
Brackish - Geoff Sainty, John Hosking, Geoff Carr, Paul Adam
Fringing - Geoff Sainty, John Hosking, Geoff Carr
Overview of coastal saltmarsh and mangrove vegetation in Victoria - Geoff Carr
Inventory of Victorian marine, estuarine and saltmarsh vascular plant species - Geoff Carr
What's Happening To Them
Preamble
Lake IIlawarra - Kathryn Duchatel, Lex Nielsen
Estuary management-a practical perspective - Todd Dickinson
Rehabilitation of estuarine habitats - Gee Chapman
Methods of mapping estuarine habitat - Greg West, Tim Glasby
Bloomin' algae - Alan Millar
Detecting and understanding environmental impacts -Tony Underwood
Saltmarsh rehabilitation and construction - Geoff Sainty, Danny Roberts
Engaging the community and rehabilitating saltmarsh, mangroves and seagrasses - Mia Dalby-Ball, Andre Olson
Saltmarsh conservation at Sydney Olympic Park - Swapan Paul, Kerry Darcovich, Andrew Jack
Nadgee Lake-challenging preconceptions about pristine estuaries - Peter Scanes, Geoff Coade
Icolls and climate change - Philip Haines
Sea levels are rising - Reg Morrison
Yarrahapinni-the wetlands - Peter Haskins
Werribee-Western Lagoon saltmarsh restoration - Jason Sonneman, Will Steele
Birds relying on estuary wetlands - Phil Straw
Interactions between fish and estuarine plants - Brianna Clynick
Impacts of boating on estuarine vegetation - Melanie Bishop
Poor fella my estuary - Geoff Hunter
Mosquitoes and coastal estuarine wetlands - Cameron Webb, Richard Russell
Biting midges associated with estuarine environments- Cameron Webb, Martin Shivas, Clive Easton
The dark side - Geoff Sainty, Kate Jennings
Streamwatch and the Cooks River Community - Gayle Adams
Glossary
Index