Chasing the Red Queen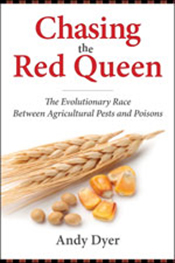 The Evolutionary Race between Agricultural Pests and Poisons
Natural system solutions for the greatest challenge of the twenty-first century: feeding nine billion people.
In the race to feed the world's seven billion people, we are at a standstill. Over the past century, we have developed increasingly potent and sophisticated pesticides, yet in 2014, the average percentage of US crops lost to agricultural pests was no less than in 1944. To use a metaphor the field of evolutionary biology borrowed from Alice in Wonderland, farmers must run ever faster to stay in the same place, or produce the same yields. + Full description
With Chasing the Red Queen, Andy Dyer offers the first book to apply the Red Queen Hypothesis to agriculture. Dyer examines one of the world's most pressing problems as a biological case study. He presents key concepts, from Darwin's principles of natural selection to genetic variation and adaptive phenotypes. Understanding the fundamentals of ecology and biology is the first step to 'playing the Red Queen' and escaping her unwinnable race. The book's novel frame will help students, researchers and policy-makers alike apply that knowledge to the critical task of achieving food security.
- Short description