Plant Life of Western Australia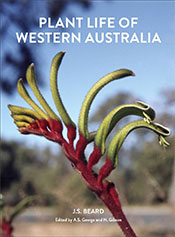 Second Edition
Edited by:
A comprehensive guide to the vegetation of Western Australia drawn from a 17 year survey of the state by botanist Dr. J.S. Beard.
The first edition of Plant Life of Western Australia grew out of Dr. John Stanley's Beard's comprehensive study of Western Australian vegetation. In 1964, in collaboration with the Department of Geography at the University of Western Australia, he established a project known as the Vegetation Survey of WA which aimed at mapping the plant cover of the entire State. About 200,000km were covered by vehicle in 17 years. As a result Dr. Beard acquired an unrivaled knowledge of the landscapes and their plant cover over the whole immense area of Western Australia. + Full description
This new edition has been revised by Alex George. The book makes maximum use of colour illustration, to which the subject particularly lends itself. The author took about 2000 colour slides in the course of his extensive field work, and over 550 of the best of these feature prominently in the book.
- Short description