A Remarkable Journey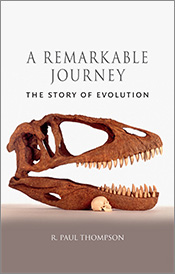 An historical narrative of the development of evolutionary theory from Darwin to the present day.
Charles Darwin's On the Origin of Species appeared a little more than 150 years ago. Although Darwin had already been developing his theory for more than twenty years and others before him had advocated evolutionary views, the book was transformative and marked the beginning of the development of evolutionary biology. The story of the development of evolutionary theory over the last century and a half is fascinating and conceptually rich; it has involved repeated modification, clarification, experimentation and frustration. + Full description
A Remarkable Journey: The Story of Evolution follows the theory of evolution along its captivating, often tortuous path – filled with intrigue and philosophical richness – from Darwin's original brilliant formulation to today's robust, vibrant and deeply explanatory principle.
In many respects, the story of evolution documents the maturing of biological science; as the evolutionary biologist Theodosius Dobzhansky asserted in 1973, 'Nothing in biology makes sense except in the light of evolution.' A Remarkable Journey is a historical narrative of the discoveries, debates, experimentation and field work that became the evidential base on which the theory of evolution rests, of the systematic assembling of these into an elegant and powerful science, and of how it increasingly won over the biological and scientific communities. This considered and absorbing overview will provide all readers with an insight into the development of what most of us now take for granted as a basic – and beautiful – principle of life.
- Short description
Details
Hardback | November 2015 | $ 49.99
ISBN: 9781780234465 | 160 pages | 216 x 138 mm
Publisher: Reaktion Books