Beyond the Farm Gate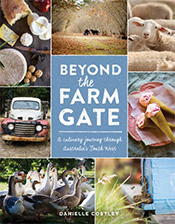 A Culinary Journey Through Australia's South West
A culinary journey through Australia's Southwest.
Beyond the Farm Gate by Danielle Costley takes you on a culinary journey through Australia's Southwest. It's a journey that's both breathtaking and yet deeply communal, at one with the people, places and produce that are home to the South West Region. Here, the food is very much an expression of craftsmanship and, at times, the very lifeblood of the community. + Full description
Beyond the Farm Gate celebrates and pays tribute to the artisan food growers who are dedicated to the art of producing flavoursome, high quality produce. Danielle Costley's in depth interviews with 31 growers reveal the interesting and diverse backgrounds of these food growers some of who share recipes that have been passed down from one generation to another.
Embark on a food-finding mission that begins with a unique berry that earned its name from a Tiger snake, unearth the rare and elusive black Perigord truffle, pop beads of citrus caviar in your mouth or pluck a Greenlip abalone from the pristine waters of Flinders Bay. Savour dry-salted organic capers, or sample fresh, oozingly decadent jarrah honeycomb straight from a beehive.
Beautifully photographed by Chris Gurney, Beyond the Farm Gate unlocks the stories and secret recipes from a melting pot of flavours and influences. This book will want to make you pack your bags and disappear for a few days on a gastronomic adventure that will leave you craving more.
- Short description