Marine Ecosystem-Based Management in Practice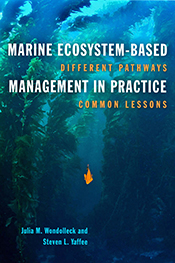 Different Pathways, Common Lessons
The first practical guide for the marine conservation realm.
Rather than lamenting the persistent conflicts in global marine ecosystems, the authors instead sought out examples where managers were doing things differently and making progress against great odds. Marine Ecosystem-Based Management in Practice presents a unique collection of case studies, showcasing successful collaborative approaches to ecosystem-based management. + Full description
This book offers a hopeful message to policy makers, managers, practitioners and students who will find this an indispensable guide to field-tested, replicable marine conservation management practices that work.
- Short description
Details
Paperback | June 2017 | $ 49.99
ISBN: 9781610917995 | 288 pages | 229 x 152 mm
Publisher: Island Press, USA

Contents
Preface
Chapter 1: Drawing Lessons from Experience in Marine Ecosystem-Based Management
Chapter 2: Navigating International Boundaries in the Gulf of Maine and Puget Sound Georgia Basin
Chapter 3: Mobilizing a Multi-State Partnership in the Gulf of Mexico
Chapter 4: Balancing Top-Down Authority with Bottom-Up Engagement in the Florida Keys and Channel Islands
Chapter 5: Motivating Engagement in Voluntary Programs in Narragansett Bay and the Albemarle-Pamlico Estuary
Chapter 6: Influencing Management from the Bottom Up in Port Orford, OR and San Juan County, WA
Chapter 7: Bricks—Tangible Elements that Support and Guide MEBM
Chapter 8: Mortar—Intangible Factors that Propel and Sustain MEBM
Chapter 9: Implications for Policy and Practice
Index