Managing Climate Risk on Your Farm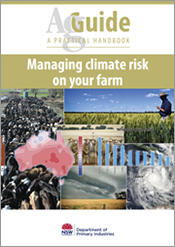 Distils the vast array of information about weather and climate into some key principles.
This book explains daily and seasonal weather events; discusses the drivers of weather and climate; reviews the longer term complex scientific models that measure and monitor our variable climate and describes how to manage the risks that weather and climate present to your business.
News
As this title is sourced from another publisher, it is available for sale to individual customers only.
No discounts apply.
Details
Paperback | February 2017 | $ 25.00
ISBN: 9781742569895 | 90 pages | 297 x 210 mm
Publisher: NSW Department of Primary Industries
Colour photographs
Contents
The creation of weather
What we see - weather events and local effects
Measuring and forecasting weather
What drives the weather and climate
The difference between climate and weather
Climate variability and climate change
Managing risk
Putting risk into context
Identifying and addressing risks from weather
Analyse the risk and determine priorities
Managing risks into the future - mitigation and adaptation
Turning principles into practice
Doing your bit: How to reduce greenhouse gas emissions from your farm