What a Plant Knows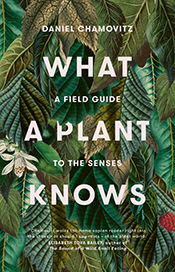 A Field Guide to the Senses
A captivating journey into the inner lives of plants – from the colours they see to the schedules they keep.
How does a Venus flytrap know when to snap shut? Can a fern get jet lag? Do roses remember the romance of springtime? + Full description
In What a Plant Knows, renowned biologist Daniel Chamovitz presents a beguiling exploration of how plants experience our shared Earth — in terms of sight, smell, touch, hearing, memory, and even awareness. Combining cutting-edge research with lively storytelling, he explains the intimate details of plant behaviour, from how a willow tree knows when its neighbours have been commandeered by an army of ravenous beetles to why an avocado ripens when you give it the company of a banana in a bag (it's the pheromones). And he settles the debate over whether the beloved basil on your kitchen windowsill cares whether you play Led Zeppelin or Bach.
Whether you are a green thumb, a science buff, a vegetarian, or simply a nature lover, this rare inside look at the life of plants will surprise and delight you.
- Short description