Hymenoptera: Evolution, Biodiversity and Biological Control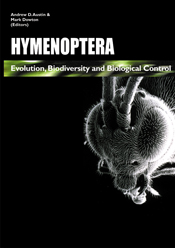 The Hymenoptera is one of the largest orders of terrestrial arthropods and comprises the sawflies, wasps, ants, bees and parasitic wasps. Hymenoptera: Evolution, Biodiversity and Biological Control examines the current state of all major areas of research for this important group of insects, including systematics, biological control, behaviour, ecology, and physiological interactions between parasitoids and hosts. + Full description
The material in this volume originates from papers presented at the Fourth International Hymenoptera Conference held in Canberra, Australia in early 1999. This material has been extensively rewritten, refereed and edited; culminating in this authoritative and comprehensive collection of review and research papers on the Hymenoptera.
The authors include many world-leading researchers in their respective fields, and this synthesis of their work will be a valuable resource for researchers and students of Hymenoptera, molecular systematics and insect ecology.
- Short description
News
No longer available in a print edition.
Reviews
"Many of the newest results in hymenopterology are given by leading experts in this well-edited book."
Peter Buhl (Entomologiske Meddelelser 69(2) 2001)
Details
ePDF | October 2000
ISBN: 9780643090088
Publisher: CSIRO Publishing
Available from
eRetailers
Contents

Part 1 – The Hymenoptera: an introduction
Part 2 – Development and Physiology
Part 3 – Molecular Phylogenetics
Part 4 – Systematics
Part 5 – Biology, Ecology and Behaviour
Part 6 – Biodiversity
Part 7 – Biological Control
Part 8 – Hymenoptera in Education
Part 9 – Medical Effects of Hymenoptera
Part 10 – Future Research
Indexes