Freshwater Fishes of North-Eastern Australia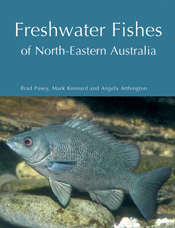 The ecology, systematics, biogeography and management of the area's native fish.
Freshwater Fishes of North-Eastern Australia provides details of the ecology, systematics, biogeography and management of 79 species of native fish present in the region. It includes detailed information on their identification, evolutionary history, breeding biology, feeding ecology, movement patterns, macro-, meso- and micro-habitat use, water quality tolerances, conservation status and current threats, as well as environmental flow and management needs. + Full description
Based on the results of extensive field surveys and a comprehensive review of existing literature, it is designed to assist environmental practitioners and managers to make informed decisions about future management strategies. It will also encourage a greater research effort into the region's aquatic fauna by providing a comprehensive resource that enables other researchers to adopt a more quantitative and strategic framework for their research.
Joint winner of the 2005 Whitley Medal.
- Short description
News
No longer available in a print edition.
Reviews
"Freshwater Fishes of North-Eastern Australia is an excellent refernce book that provides extensive information on the fish species of North-Eastern Australia. It will provide an invaluable reference tool for researchers, ecologists, and land and catchment managers alike."
Adam Fawcett (Austral Ecology, Vol 31, 2006)

"The authors have taken this opportunity to publish a wealth of material they have collected and analysed over the last 20 years or so and review the existing literature to present us with this very worthwhile offering for anyone interested in our native freshwater fishes. I have no hesitation in recommending this to anyone who wants good information."
Bruce Hansen (In-Stream 13(6), December 2004) and (ANGFA (Australia New Guinea Fishes Association) News December 2004)

"This work will be indispensable to further conservation projects in Australia..."
D Bardack, University of Illinois at Chicago (Choice, v.42 no.7 March 2005)

"… collates an enormous amount of work from this interesting and important part of Australia. And it does it very well. … This book fills a major gap in our knowledge of the biology of freshwater fishes in Australia, which has always had a southern bias. I envisage that it will be a useful reference for academics, students, researchers and managers looking to 'round-out' their understanding of the biology of Australian freshwater fishes. It should be of interest also to overseas scientists who study sub-tropical and tropical rivers systems and their fishy inhabitants and to biogeographers generally.
Paul Humphries, School of Environmental and Information Sciences, Charles Sturt University (River Research and Applications v.21 no.6 July 2005)
Details
ePDF | September 2004
ISBN: 9780643092082
Publisher: CSIRO Publishing
Available from
eRetailers
Features
Includes a diagnostic key to most native and alien species present in freshwaters of the region.
Contains a bibliography of more than 1400 references spanning the late 1800s to the present.
Contents
Foreword
Acknowledgements
Introduction
Origins, structure and classification of fishes
Key to the native and alien fishes of North-Eastern Australia
Study area, data collection and presentation
Species accounts (79)
Conclusion: prospects, threats and information gaps
Glossary
Bibliography
Index
Appendix 1: Fish species composition in rivers of north-eastern Australia
Appendix 2: Studies undertaken in rivers of north-eastern Australia