The CSIRO Total Wellbeing Diet: Complete Recipe Collection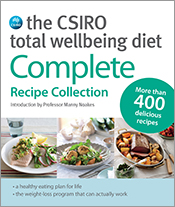 More than 400 delicious recipes for a healthy eating plan for life.
The CSIRO Total Wellbeing Diet is Australia's favourite weight-loss program and has inspired thousands of Australians to lose weight and improve their overall health. And to celebrate 10 years since the the Total Wellbeing Diet was first introduced to us, we've gathered together more than 400 CSIRO recipes together in one volume. You'll be able to enjoy all of these healthy, mouth-watering dishes for breakfast, lunch and dinner, with plenty of options everyone in the family will enjoy. + Full description
News
As this title is sourced from another publisher, it is available for sale to individual customers only.
No discounts apply.
Details
Paperback | September 2015 | $ 39.99
ISBN: 9780670078530 | 624 pages
Publisher: Penguin
Colour photographs
Features
A healthy eating plan for life
The scientifically-proven weight-loss program that can actually work
Plenty of ideas for fabulous salads and vegetable dishes to expand your repertoire
Easy options for entertaining, plus blokey favourites and hearty one-pot dishes