Phylogenetic relationships within the Terebellidae (Polychaeta : Terebellida) based on morphological characters
André R. S. Garraffoni A B C and Paulo C. Lana A
+ Author Affiliations
- Author Affiliations
A Centro de Estudos do Mar, Universidade Federal do Paraná, Av. Beira Mar s/n, CP 50002, Pontal do Paraná, PR 83255-000, Brazil.
B Present address: Universidade Federal dos Vales do Jequitinhonha e Mucuri, Departamento de Ciências Biológicas, Campus II, Rodovia BR-367, CEP: 39.100-000, Diamantina, MG, Brazil.
C Corresponding author. Email: garrafoni@gmail.com
Invertebrate Systematics 22(6) 605-626 https://doi.org/10.1071/IS07006
Submitted: 16 March 2007 Accepted: 17 October 2008 Published: 22 December 2008

Abstract
Most of the recognised genera in Terebellidae lack phylogenetic support because their current diagnoses are based on homoplastic or plesiomorphic features. To address this problem, the phylogenetic relationships of terebellid genera were studied using a morphology-based parsimony analysis of 94 species, with members of the Ampharetidae and Alvinellidae as outgroups. The monophyly of the Terebellidae is supported by the presence of a prostomium shaped as a dorsal ridge-like structure, the prostomial buccal tentacles not retractable into the mouth and the ventral glandular areas having distinct pads. The subfamilies Polycirrinae, Terebellinae and Trichobranchinae are monophyletic. Species of Trichobranchinae form a clade within the Terebellidae, which provides further evidence to support its subfamily status. The lack of evidence to support Thelepodinae reinforces previous statements that this group is not monophyletic.
We thank many colleagues who provided generous help and access to museum collections and facilities: Penny Berents and Pat Hutchings (Australian Museum), Dieter Fiege (Senckenberg Museum), Leslie H. Harris (Los Angeles County Museum), Andrew Mackie (Museum of Wales), Emma Sherlock (British Museum), Paulo Paiva (Universidade Federal do Rio de Janeiro), Nicolas Rozbaczylo (Pontifícia Universidad Católica de Chile), Kristian Fauchald (Smithsonian Institution), Angelika Brandt (Zoologisches Institut und Zoologisches Museum der Universität), Cecilia Amaral (Museu de História Natural de Campinas), Mario H. Londoño-Mesa (ECOSUR). Cinthya Santos, Walter Boeger, Gabriel Mello, Cecília Amaral, João Nogueira, Anete Lourenço, three anonymous referees and Camilla Myers are gratefully acknowledged for offering suggestions that greatly improved the paper. Pedro Martínez provided working facilities to the first author at the Senckenberg Institute (Wilhelmshaven, Germany), where part of the material used in the present study was examined. Dieter Fiege helped us with the partial translation of Grube's papers. This research was supported by a grant provided to the first author by the Brazilian funding agencies CAPES, FAPESP (05-59809-7), and the Germany agency DAAD.
References

Almeida W. O., Christoffersen M. L., Amorim D. S., Garraffoni A. R. S., Silva G. S. (2003) Polychaeta, Annelida, and Articulata are not monophyletic: articulating the Metameria (Metazoa, Coelomata). Revista Brasileira de Zoologia 20, 23–57.
| CrossRef |

Amaral A. C. Z. , and Nonato E. F. (1996). 'Annelida Polychaeta: Características, glossário e chaves para família e gêneros da costa brasileira.' (Editora Unicamp, Campinas, Brazil.)

Arvanitidis C., Koukouras A. (1995) Amphitritides kuehmanni sp. nov. (Polychaeta: Terebellidae, Amphitritinae) from the Aegean Sea, with comments on the genus Amphitritides Augener. Ophelia 40, 219–227.

Banse K. (1980) Terebellidae (Polychaeta) from the Northeast Pacific Ocean. Canadian Journal of Fisheries and Aquatic Sciences 37, 20–40.
| CrossRef |

Barriel V., Tassy P. (1998) Rooting with multiple outgroups: consensus versus parsimony. Cladistics 14, 193–200.

Bhaud M. (1988a) The two planktonic larval periods of Lanice conchilega (Pallas, 1766) Annelida Polychaeta, a peculiar example of the irreversibility of evolution. Ophelia 29, 141–152.

Bhaud M. (1988b) Change in setal pattern during early development of Eupolymnia nebulosa (Polychaeta: Terebellidae) grown in simulated natural conditions. Journal of the Marine Association of the United Kingdom 68, 677–687.

Blankensteyn A. (1988). Terebellidae e Trichobranchidae (Annelida: Polychaeta) da costa sudeste do Brasil (24°–27°S). M.Sc. Thesis, Universidade Federal do Paraná, Brazil.

Bremec C. S., Elias R. (1999) Species of Terebellides from South Atlantic waters off Argentina and Brazil (Polychaeta: Trichobranchidae). Ophelia 51, 177–186.

Brown S., Rouse G. W., Hutchings P. A., Colgan D. (1999) Assessing the usefulness of histone H3, U2 snTNA and 28SrDNA in analysis of polychaete relationships. Australian Journal of Zoology 47, 499–516.
| CrossRef |

Capa M., Hutchings P. A. (2006) Terebellidae (Polychaeta) from Coiba National Park, Panamanian Pacific, including description of four new species and synonymy of the genus Paraeupolymnia with Lanicola. Zootaxa 1375, 1–29.

Caullery M. (1944). Polychètes Sédentaires de l'Expédition du Siboga: Ariciidae, Spionidae, Chaetopteridae, Chlorhaemidae, Opheliidae, Oweniidae, Sabellariidae, Sternaspidae, Amphictenidae, Ampharetidae, Terebellidae. Siboga-Expeditie Uitkomsten op Zoologisch, Bonatisch, Oceanographisch en Geologisch gebied verzameld in Nederlandsch Oost-Indië 1899–1900 1, 1–204.

Colgan D., Hutchings P. A., Brown S. (2001) Phylogenetic relationships within the Terebellomorpha. Journal of the Marine Association of the United Kingdom 81, 765–773.
| CrossRef | CAS |

Day J. H. (1967). 'A Monograph on the Polychaeta of Southern Africa. Part. 2 Sedentaria.' (British Museum of Natural History: London, UK.)

Fauchald K. (1977) The polychaete worms. Definitions and keys to the orders, families and genera. Natural History Museum of Los Angeles County. Science Series 28, 1–188.

Fauchald K., Jumars P. A. (1979) The diet of worms: a study of polychaete feeding guilds. Oceanography and Marine Biology Annual Reviews 17, 193–284.

Fauchald K., Rouse G. W. (1997) Polychaete phylogeny: past and present. Zoologica Scripta 26, 71–138.
| CrossRef |

Fauvel P. (1927). 'Faune de France vol. 16. Polychètes sédentaires. Addenda aux Errantes, Archiannélides, Myzostomaires.' (Librairie de la Faculté des Sciences Paul Lechevalier, Paris, France.)

Forey P. L. , and Kitching I. J. (2000). Experiments in coding multistate characters. In 'Homology and Systematic: Coding Characters for Phylogenetic Analysis'. (Eds R. Scotland and T. Pennington.) (Taylor & Francis: London, UK.)

Garraffoni A. R. S. (2007) Assessment of Euthelepus (Polychaeta, Terebellidae, Thelepodinae) relationships and discussion about genera and subfamily monophyly. Journal of the Marine Association of the United Kingdom 87, 695–701.
| CrossRef |

Garraffoni A. R. S., Camargo M. G. (2006) First application of morphometrics in a study of the variation in uncinial shape present within the Terebellidae (Polychaeta). Zoological Studies 45, 75–80.

Garraffoni A. R. S., Camargo M. G. (2007) A new application of morphometrics in a study of the variation in uncinal shape present within the Terebellidae (Polychaeta): a reevaluation from digital images. Cahiers de Biologie Marine 48, 229–240.

Garraffoni A. R. S., Costa E. M. (2003) Two new species of Polycirrus (Polychaeta, Terebellidae) from Abrolhos Archipelago, Brazil. Zootaxa 297, 1–7.

Garraffoni A. R. S., Lana P. C. (2000) Análise cladística do gênero Octobranchus Marion and Bobretzky, 1875 (Trichobranchidae: Polychaeta). Notas Técnicas da Facimar 4, 43–48.

Garraffoni A. R. S., Lana P. C. (2002) Is Filibranchus, Malm 1874 (Trichobranchidae: Polychaeta) a natural taxon? Sarsia 87, 472–477.
| CrossRef |

Garraffoni A. R. S., Lana P. C. (2003) Species of Terebellides (Polychaeta, Terebellidae, Trichobranchinae) from the Brazilian coast. Iheringia. Zoologia 93, 355–363.

Garraffoni A. R. S., Lana P. C. (2004) Cladistic analysis of the subfamily Trichobranchinae (Polychaeta, Terebellidae). Journal of the Marine Association of the United Kingdom 84, 973–982.
| CrossRef |

Garraffoni A. R. S., Lana P. C., Hutchings P. (2005) A catalogue of the Trichobranchinae (Polychaeta: Terebellidae) of the world. Zootaxa 1065, 1–27.

Garraffoni A. R. S. , Nihei S. S. , and Lana P. C. (2006). Distribution patterns of Terebellidae (Annelida: Polychaeta): an application of parsimony analysis of endemicity (PAE). Scientia Marina 70S3, 269–276.

Glasby C. J., Glasby T. M. (2006) Two types of uncini in Polycirrus (Polychaeta: Terebellidae: Polycirrinae) revealed using geometric morphometrics. Journal of Natural History 40, 237–253.
| CrossRef |

Glasby C. J. , Hutchings P. A. , Fauchald K. , Paxton H. , Rouse G. W. , Russell C. W. , and Wilson R. S. (2000). Class Polychaeta. In 'Fauna of Australia. Volume 4A. Polychaetes and Allies'. (Eds P. L. Beesley, G. J. B. Ross and C. J. Glasby.) (CSIRO Publishing: Melbourne, Australia.)

Glasby C. J., Hutchings P. A., Hall K. (2004) Assessment of monophy and taxon affinities within the polychaete clade Terebelliformia (Terebellidae). Journal of Marine Association of United Kingdom 84, 961–971.
| CrossRef |

Goloboff P. A. (1999). Nona, version 2.0. (Fundación e Instituto Miguel Lillo: Tucumán, Argentina.) Available at http://www.cladistics.com/about/Nona.htm

Grube A. E. (1850) Die Familien der Anneliden. Archiv für Naturgeschichte 16, 249–364.

Hartman O. (1959). Catalogue of the polychaetous annelids of the world. Part II. Occasional Papers of the Allan Hancook Foundation 23, 355–628.

Hartman O. (1963) Reteterebella queenslandia, a new genus and species of polychaetous annelid from Queensland, Australia. Records of the Australian Museum 25, 355–357.

Hartmann-Schröder G. (1996). 'Annelida Borstenwürmer, Polychaeta. Die Tierwelt Deutschlands.' (Gustav Fischer Verlag.)

Hartmann-Schröder G. (1971). Annelida, Borstenwürmer, Polychaeta. Tierwelt Deutschlands und der angrenzenden Meeresteile nach ihren Maermalen und nach ihrer Lebensweise 58, 1–594.

Hausen H. (2005) Chaetae and chaetogenesis in polychaetes (Annelida). Hydrobiologia 535/536, 37–52.
| CrossRef |

Hawkins J. A., Hughes C. E., Scotland R. W. (1997) Primary homology assessment, characters and character state. Cladistics 13, 275–283.
| CrossRef |

Hessle C. (1917). Zur Kenntnis der terebellomorphen Polychaeten. Zoologiska Bidrag från Uppsala 5, 39–258.

Hilbig B. (2000). Family Terebellidae. In 'Taxonomic Atlas of the Benthic Fauna of the Santa Maria Basin and Western Santa Barbara Channel'. (Eds J.A. Blake, B. Hilbig and P. V. Scott.) pp. 231–293. (Santa Barbara Museum of Natural History, Santa Barbara, CA, USA).

Hissmann K. (2000) Lanice arakani, a new species of the family Terebellidae (Polychaeta: Sedentaria) from seamounts of the West Mariana Ridge. Journal of the Marine Association of United Kingdom 80, 249–257.
| CrossRef |

Holthe T. (1976) Paramphitrite tetrabranchia gen. et sp. nov. A new terebellid polychaete from western Norway. Sarsia 61, 59–62.

Holthe T. (1977) The systematic position of Artacamella Hartman, 1955 (Polychaeta, Terebellomorpha). Sarsia 63, 35–37.

Holthe T. (1986 a). 'Polychaeta Terebellomorpha. Marine Invertebrates of Scandinavia. Vol. 7.' (Norwegian University: Trondheim, Norway.)

Holthe T. (1986b) Evolution, systematics, and distribution of the Polychaeta Terebellomorpha, with a catalogue of the taxa and bibliography. Gunneria 55, 1–236.

Hsieh H. L. (1994) Amphitrite lobocephala, a new species (Polychaeta: Terebellidae) from Taiwan. Proceedings of the Biological Society of Washington 107, 517–532.

Hutchings P. A. (1974) Polychaeta of Wallis Lake, New South Wales. Proceedings of the Linnean Society of New South Wales 98, 195–195.

Hutchings P. A. (1977) Terebelliform Polychaeta of the families Ampharetidae, Terebellidae and Trichobranchidae from Australia, chiefly from Moreton Bay, Queensland. Records of the Australian Museum 31, 1–38.

Hutchings P. A. (1990). Terebellidae (Polychaeta) from the Hong Kong region. In 'Proceedings of the Second International Workshop on the Marine Flora and Fauna of Hong Kong and Southern China'. (Ed. B. Moreton.) pp. 377–412. (University of Hong Kong: Hong Kong, China.)

Hutchings P. A. (1993). New species of the family Terebellidae (Polychaeta) from Rottnest Island, Western Australia. In 'Proceedings of the 5th International Marine Biological Workshop. The Marine Flora and Fauna of Rottnest Island, Western Australia'. (Eds F. E. Wells, D. I. Walker, H. Kirkman and R. Lethbridge.) pp. 321–330. (Records Western Australian Museum: Sydeny, Australia.)

Hutchings P. A. (1997 a). New species of the family Terebellidae (Polychaeta) from Darwin Harbour Australia. In 'Proceedings of the 6th International Marine Biological Workshop. The Marine Flora and Fauna of Darwin Harbour, Northern Territory'. (Ed. R. Hanley.) pp. 133–161. (Beagle: Darwin, Australia.)

Hutchings P. A. (1997 b). New species of the family Terebellidae (Polychaeta) from Abrohlos Island, Western Australia. In 'Proceedings of the 7th International Marine Biological Workshop. The Marine Flora and Fauna of Abrolhos Island, Western Australia'. (Ed. F. E. Wells.) pp. 459–502. (Records Western Australian Museum: Sydney, Australia).

Hutchings P. (2000 a). Family Trichobranchidae. In 'Polychaeta and Allies: The Southern Synthesis. Fauna of Australia. Vol. 4a Polychaeta, Myzostomida, Pogonophora, Echiura, Sipuncula'. (Eds P. L. Beesley, G. L. B. Ross and C. J. Glasby.) pp. 226–232. (CSIRO Publishing: Melbourne, Australia.)

Hutchings P. (2000 b). Family Terebellidae. In 'Polychaeta and Allies: The Southern Synthesis. Fauna of Australia. Vol. 4a Polychaeta, Myzostomida, Pogonophora, Echiura, Sipuncula'. (Eds P. L. Beesley, G. L. B. Ross and C. J. Glasby.) pp. 232–235. (CSIRO Publishing: Melbourne, Australia.)

Hutchings P. A., Glasby C. J. (1986a) A revision of the genus Euthelepus (Terebellidae: Polychaeta). Records of the Australian Museum 38, 105–117.

Hutchings P. A., Glasby C. J. (1986b) The Polycirrinae (Polychaeta: Terebellidae) from Australia. Records of the Australian Museum 38, 319–350.

Hutchings P. A., Glasby C. J. (1986c) A revision of the genus Euthelepus (Terebellidae: Thelepinae). Records of the Australian Museum 38, 105–117.

Hutchings P. A., Glasby C. J. (1987) The Thelepinae from Australia, with a discussion of the generic and specific characters of the family. Bulletin of the Biological Society of Washington 7, 217–250.

Hutchings P. A., Glasby C. J. (1988) The Amphitritinae (Polychaeta: Terebellidae) from Australia. Records of the Australian Museum 40, 1–60.

Hutchings P. A. , and Glasby C. J. (1990). Additional new species of family Terebellidae (Polychaeta) from Western Australia, with a key to all described species from the region. In 'The Flora and Fauna of the Albany Area, Western Australia'. (Eds F. E. Wells, D. I. Walker, H. Kirkman and R. Lethbridge.) pp. 251–289. (Records Western Australian Museum: Sydney, Australia.)

Hutchings P. A., Glasby C. J. (1991) Phylogenetic implications of the biogeography of Australian Terebellidae (Polychaeta). Ophelia 5, 565–572.

Hutchings P. A., Murray A. (1984) Taxonomy of polychaetes from the Hawkesbury River and the southern estuaries of New South Wales, Australia. Records of the Australian Museum 36, 1–119.

Hutchings P. A., Peart R. (2000) A revision of the Australian Trichobranchidae (Polychaeta). Invertebrate Taxonomy 14, 225–272.
| CrossRef |

Hutchings P. A., Rainer S. F. (1979) The polychaete fauna of Careel Bay, Pittwater, New South Wales, Australia. Journal of Natural History 13, 745–795.
| CrossRef |

Hutchings P. A., Smith R. (1997) Descriptions of new species and comments on previously described species of terebellid polychaetes from New Zealand and Australia. Bulletin of Marine Science 60, 324–349.

Imajima M., Williams S. J. (1985) Trichobranchidae (Polychaeta) chiefly from the Sagami and Suruga Bays, collected by R/V Tansei Maru (Cruises KT-65–76). Bulletin of the National Science Museum 11, 7–18.

Kritzler H. (1984 a). Chapter 52. Family Terebellidae Grube 1850. In 'Taxonomic Guide to the Polychaetes of the Northern Gulf of Mexico'. (Eds J. M. Uebelacker and P. G. Johnson.) pp. 52.1–52.72. (Barry Vittor and Associates: Mobile, AL, USA.)

Kritzler H. (1984 b). Chapter 53. Family Trichobranchidae Malmgren, 1866. In 'Taxonomic Guide to the Polychaetes of the Northern Gulf of Mexico'. (Eds J. M. Uebelacker and P. G. Johnson.) pp. 53.1–53.6. (Barry Vittor and Associates: Mobile, AL, USA.)

Londoño-Mesa M. H. (2003) Revision of Spinosphaera and establishment of the genus Hutchingsiella (Polychaeta: Terebellidae: Terebellinae). Journal of the Marine Association of the United Kingdom 83, 747–759.
| CrossRef |

Londoño-Mesa M. H. (2006) Revision of Paraeupolymnia, and redescription of Nicolea uspiana comb. nov. (Terebellidae: Polychaeta). Zootaxa 1117, 21–35.

Londoño-Mesa M. H., Carrera-Parra L. F. (2005) Terebellidae (Polychaeta) from the Mexican Caribbean with description of four new four species. Zootaxa 1057, 1–44.

Malmgren A. J. (1866) Nordiska Hafs-Annulater. Öfversigt af Kongliga Vetenskaps-Akadamiens. Förhandlingar 22, 335–410.

Malmgren A. J. (1867). 'Annulata Polychaeta: Spetsbergiae, Groenlandiae, Islandiae et Scandinaviae. Hactenus cognita.' (Ex Officina Frenckelliana: Helsingforsiae.)

Marconi G., Bhaud M. (1995) New observation on the terebellid (Polychaeta) aulophore larvae on the French coast. Ophelia 43, 229–244.

McHugh D. (1995) Phylogenetic analysis of the Amphitritinae (Polychaeta: Terebellidae). Zoological Journal of the Linnean Society 114, 405–429.
| CrossRef |

Müller O. F. (1771). Von Würmern des süssen und salzigen. (Wassers: Copenhagen, Denmark.)

Nixon K. C. (2002). Winclada version 1.0. Available at http://www.cladistics.com/aboutWinc.htm (Cornell University: Ithaca, NY, USA.)

Nixon K. C., Carpenter J. M. (1993) On outgroups. Cladistics 9, 413–426.
| CrossRef |

Nixon K. C., Davis J. I. (1991) Polymorphic taxa, missing values and cladistic analysis. Cladistics 7, 233–241.
| CrossRef |

Nogueira J. M. M. (2003) A new species of Paraeupolymnia Young and Kritzler 1986 (Polychaeta: Terebellidae: Terebellinae) from Brazil. Scientia Marina 67, 403–411.

Nogueira J. M. M., Alves T. M. (2006) Two new terebellid polychaetes (Polychaeta: Terebellidae) from the state of São Paulo, southeastern Brazil. Zootaxa 1205, 31–54.

Nogueira J. M. M., Amaral A. C. Z. (2001) New terebellids (Polychaeta: Terebellidae) living in colonies of a stony coral in the state of São Paulo, Brazil. Proceedings of the Biological Society of Washington 114, 285–296.

Nogueira J. M. M., Hutchings P. A. (2007) New species of terebellid polychaetes (Polychaeta: Terebellidae) from Australia. Zootaxa 1473, 1–24.

Nogueira J. M. M., Hutchings P. A., Amaral A. C. Z. (2003) Articulatia, a new genus of Terebellinae (Polychaeta: Terebellidae) living in Brazilian corals. Journal of the Marine Association of the United Kingdom 83, 761–770.
| CrossRef |

Nogueira J. M. M., Garraffoni A. R. S., Alves T. M. (2004) A new species of Streblosoma Sars, 1872 (Polychaeta, Terebellidae, Thelepodinae) from Brazil, with comment on Streblosoma oligobranchiatum Nogueira & Amaral, 2001. Beaufortia 54, 93–103.

Page R. D. M. (1996). Treeview, version 1.6.6. (University of Glasgow, UK.) Available at http://taxonomy.zoology.gla.ac.uk/rod/treeview.html

Page R. D. M. (2001). NDE, version 0.5.0. (University of Glasgow, UK.) Available at http://taxonomy.zoology.gla.ac.uk/rod/NDE/nde.html

Patterson C., Smith A. B. (1987) Is periodicity of mass extinctions a taxonomic artifact? Nature 330, 248–251.
| CrossRef |

Patterson C., Smith A. B. (1989) Periodicity in extinction: the role of systematics. Ecology 70, 802–811.
| CrossRef |

Pearson T. H. (1969) Scionella lornensis sp. nov., a new terebellid (Polychaeta: Annelida) from the west coast of Scotland, with notes on the genus Scionella Moore, and a key to the genera of the Terebellidae recorded from European waters. Journal of Natural History 3, 509–516.
| CrossRef |

Platnick N. I. (1976) Are monotypy genera possible? Systematic Zoology 25, 198–199.
| CrossRef |

Platnick N. I. (1977) Monotypy and the origin of higher taxa: a reply to E. O. Wiley. Systematic Zoology 26, 355–357.
| CrossRef |

Pleijel F. (1995) On character coding for phylogeny reconstruction. Cladistics 11, 309–315.
| CrossRef |

Prendini L. (2001) Species or supraspecific taxa as terminals in cladistic analysis? Groundplans versus exemplars revisited. Systematic Biology 50, 290–300.
| CrossRef | CAS | PubMed |

Rouse G. W. (2001). Family Terebellidae. In 'Polychaetes'. (Eds G. W. Rouse and P. Pleijel.) pp. 246–250. (Oxford University Press: Oxford, UK.)

Rouse G. W., Fauchald K. (1997) Cladistics and polychaetes. Zoologica Scripta 26, 269–301.

Rouse G. W., McHugh D. (1994) Ultrastructure of spermatids and spermatozoa in Ramex califoniensis a and Nicolea zostericola (Terebellidae: Polychaeta). Ophelia 39, 225–238.

Rousset V., Rouse G. W., Féral J. P., Desbruyères D., Pleijel F. (2003) Molecular and morphological evidence of Alvinellidae relationships (Terebelliformia, Polychaeta, Annelida). Zoologica Scripta 32, 185–197.
| CrossRef |

Rozbaczylo N., Méndez M. A. (1996) Artacama valparaisiensis, a new species of Terebellidae (Annelida: Polychaeta) from subtidal soft bottoms of Valparaiso Bay, Chile. Proceedings of the Biological Society of Washington 109, 138–142.

Saphronova M. A. (1991) Redescription of some species of Scionella Moore, 1903, with a review of the genus and comments on some species of Pista Malmgren, 1866 (Polychaeta: Terebellidae). Ophelia 5, 239–247.

Solis-Weiss V., Fauchald K., Blankensteyn A. (1991) Trichobranchidae (Polychaeta) from shallow warm water areas in the Western Atlantic Ocean. Proceedings of the Biological Society of Washington 104, 147–158.

Swofford D. L. (2001). 'PAUP: Phylogenetic Analysis Using Parsimony, Version 4.0beta10.' Computer program and manual distributed by Center of Biodiversity, Illinois Natural History Survey, Champaign, Illinois.

Tourtellotte G., Kritzler H. (1988) Scionella papillosa, a new species of Polycheata (Polychaeta: Terebellidae) from the southwest Florida continental shelf. Proceedings of the Biological Society of Washington 101, 79–82.

Uschakov P. (1955). 'Polychaeta from the Far-Eastern Seas of the USSR.' (Akademiya NAUK SSS: Moscow, Russia.)

Williams S. J. (1984). The status of Terebellides stroemii (Polychaeta: Trichobranchidae) as a cosmopolitan species, based on a worldwide morphological survey, including description of new species. In 'Proceedings of the First International Polychaete Conference'. (Ed. P. A. Hutchings.) pp. 118–142. (The Linnean Society of New South Wales: Sydney, Australia.)

Wilson D. P. (1928) Post-larval development of Loimia medusa Sav. Journal of the Marine Association of the United Kingdom 15, 129–149.

Yeates D. K. (1995) Groundplans and exemplars: paths to the tree of life. Cladistics 11, 343–357.
| CrossRef |

Zhadan A. E., Tzetlin B. (2003) Comparative study of the diaphragm (gular membrane) in Terebelliformia (Polychaeta, Annellida). Hydrobiologia 496, 269–278.
| CrossRef |

Appendix 2.  Examined species, listed by date of description
Abbreviations indicate deposit places: AM – Australian Museum, Sydney, Australia; LACM-AHF – Los Angeles County Museum, Alan Hancock Foundation, Los Angeles, USA; MCEM – Museu do Centro de Estudos do Mar, Universidade Federal do Paraná, Pontal do Paraná, Brazil; IBUFRJ – Universidade Federal do Rio de Janeiro, Instituto de Biologia, Rio de Janeiro, Brazil; SMF – Senckenberg Museum of Frankfurt, Frankfurt, Germany; NMWZ – National Museums and Galleries Wales, Cardiff, Wales; SSUC – Sala de Sistemática, Departamento de Ecologia, Pontifícia Universidad Católica de Chile, Santiago, Chile; BMNH – The Natural History Museum (formerly British Museum (Natural History), ( London, England; USNM – National Museum of Natural History, Washington, DC, USA; ZMH – Zoologisches Institut und Zoologisches Museum der Universität, Hamburg, Germany; MHN – Museu de História Natural de Campinas, Campinas, Brazil; ECOSUR – Colección de Referencia, Chetumal, Mexico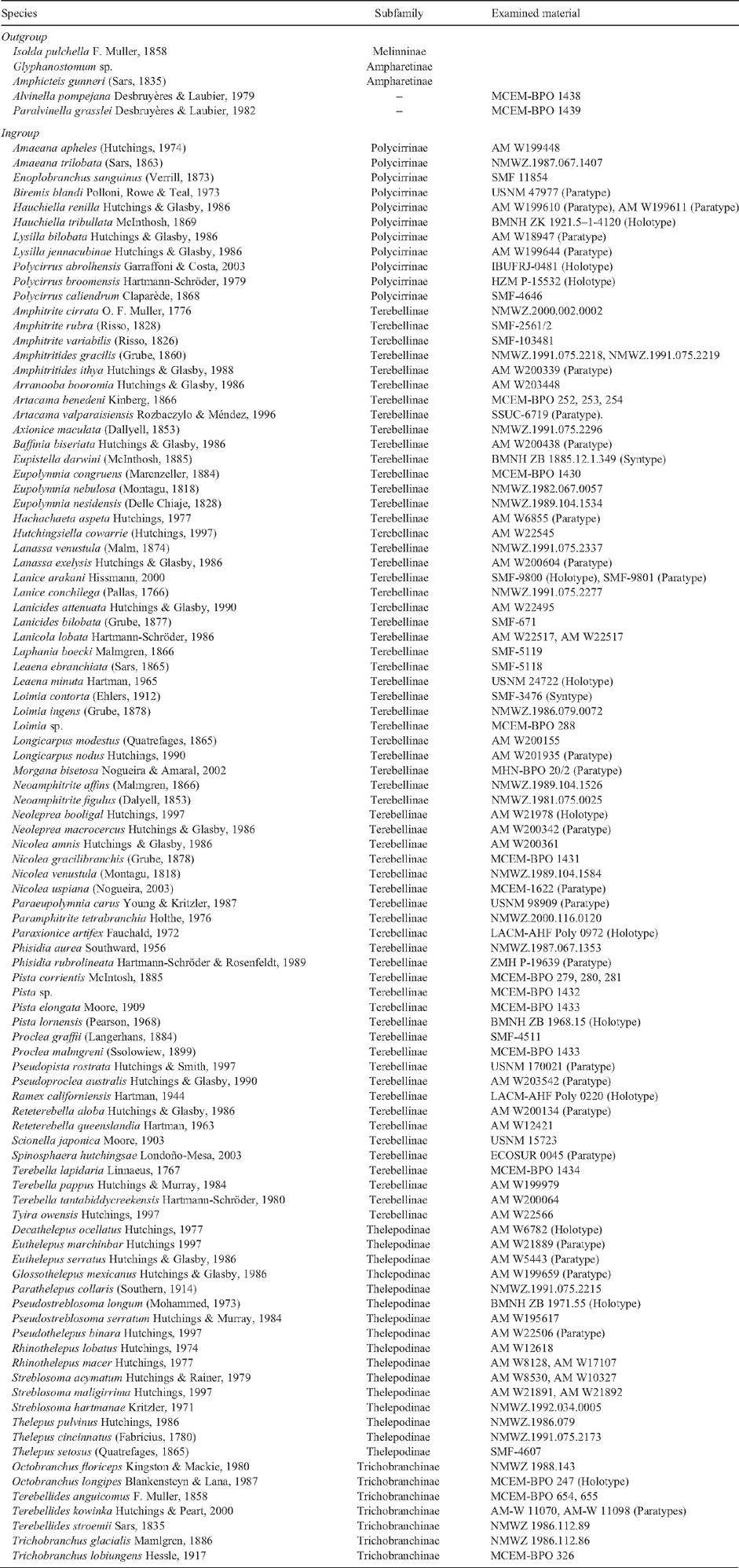 Appendix 3.  Matrix used in the cladistic analysis of Terebellidae
0–5 = characters states; '?' = missing information; '–' inapplicable information. Polymorphisms: A = 0/1; B = 1/2; C = 0/2; D = 0/3