About the Editorial Team
Editor-in-Chief - Wayne Bryden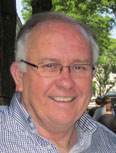 Professor Wayne Bryden is the Editor-in-Chief of Animal Production Science. He has extensive editorial experience as an author of over 230 papers in international journals/proceedings, and is a regular reviewer for many animal science journals. He has been on the editorial boards of four journals and a member of eight animal science societies. His publications are highly cited.
Wayne is the Professor of Animal Science at The University of Queensland. His research areas are animal nutrition and toxicology, plant associated toxins, mycotoxins and fungal ecology. Areas in which he has had experience include: vitamin, energy and amino acid metabolism, digestive function and nutrient availability, and the influence of non-nutrient feed components on animal performance and, more recently, aspects related to exercise physiology and immunology. These studies have mainly been carried out with chickens but studies with pigs, cattle, sheep and horses have been conducted where appropriate.
Wayne has received invitations to become: (i) the Chair of the Gordon Research Conferences on mycotoxins and phycotoxins, (ii) a member of the Mycotoxin Working Party of the Food Chemistry Division of the International Union of Pure and Applied Chemistry, and (iii) a member of the WHO Expert Panel on Food Safety; which are indicators of his international standing. An appointment to an adjunct Professorship at North Carolina State University was in recognition of his research in mycotoxicology and poultry nutrition.
Editor-in-Chief
Professor Wayne Bryden
Animal Production Science
School of Animal Studies
University of Queensland
Gatton, Qld 4343
Australia
Telephone +61 7 5460 1250
Fax +61 7 5460 1444
Email w.bryden@uq.edu.au
Publisher - Chris Anderson
Dr Chris Anderson has worked as a Publisher/Senior Managing Editor at CSIRO PUBLISHING since 1988, and before that as a research scientist/postdoctoral fellow at Monash and Latrobe Universities. His main research interests are: plant nutrition, ecophysiology, salinity tolerance and sustainable farming systems. He has also been a team leader in the Plant Sciences Publishing Group at CSIRO PUBLISHING.
Chris has also been actively involved in conducting workshops/discussion seminars on the publishing process for peer-reviewed journals and is keen to foster new authors.